VH-UNK DHA-3 Drover 3B (c/n 5019)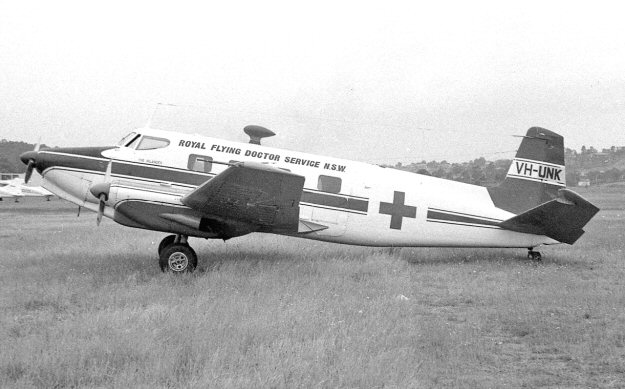 This was the former RFDS' VH-FDA, which began life as a Drover Mk.2 in July 1956, before
being upgraded to Mk.3, Mk.3A and Mk.3B status. It is seen above in this nice shot by Norm
Weeding (via Geoff Goodall) at Bankstown in December 1967. It was traded in on a new
Beagle 206 and re-registered VH-UNK on 7 September 1967 to Beagle Aircraft Sales (Aust-
ralasia) Pty Ltd which was an associate of Airfast in Sydney.

The Drover was on-sold two
months later by Hazair Sales & Service of Orange NSW and re-registered VH-UMA on 10
November 1967. However it remained parked at Bankstown in full RFDS green & white
scheme with name

"The Inlander"

as VH-UNK and by April 1968 it had flown to Orange,
still wearing the rego VH-UNK!

At Orange it was repainted into a Piper Aztec style paint
scheme, Jim Hazelton at that time specialising in importing Piper twins for resale. Later in its
career (1970) it went to New Zealand as ZK-DDD, returning to Australia in 1988 as VH-FBC.
It now reposes in the Powerthouse Museum in Sydney.