VH-FBC (3) DHA-3 Drover 3A (c/n 5019)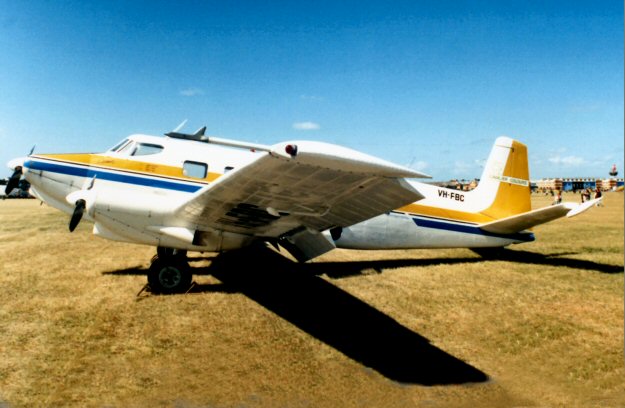 This was actually the last production Drover completed. C/n 5020 was removed from the production
line and its completion accelerated so that it could become the developmental aircraft to solve engine/
propellor coordination problems. 5019 went to the NSW section of the Royal Flying Doctor Service
as VH-FDA in July 1956. In 1959 the RFDS had a couple of their Drovers converted to take three
180 hp Lycoming engines in lieu of the original 145 hp D.H Gipsys. VH-FDA was the developmental
aircraft. After the engine re-fit it became known as the Mark 3. Two years later another modification
extended the horizontal stablizer and elevators by some 24 inches, and increased the dihedral 7 degrees
(producing the somewhat "funny" look in the image above) and resulting in the designation Mark 3A.
VH-FDA was sold by the RFDS in 1967 to Beagle Aircraft Sales (Australasia) as VH-UNK. After a
scant two months it was sold on to Hazair Sales as VH-UMA. In 1970 it went to New Zealand as
ZK-DDD registered to the Mercury Bay Aero Club. It later (1983) went to Great Barrier Airlines.
In 1988 it was purchased by Robert Youl, CEO of Cavalier Colours Pty Ltd of Mordialloc, Victoria
registered VH-FBC, and flown in the Bicentennial Air Race around Australia. Barry Maclean saw it
around that time at Laverton, Victoria (October 1988) and took the above image. (

"Cavalier Colours"


can be seen on the bar across the fin and rudder on the original print ). In 1993 this Drover was pur-
chased by the Powerhouse Museum in Sydney and is exhibited there today.