VH-UET DHC-1 Chipmunk T.10 (c/n C1-0003)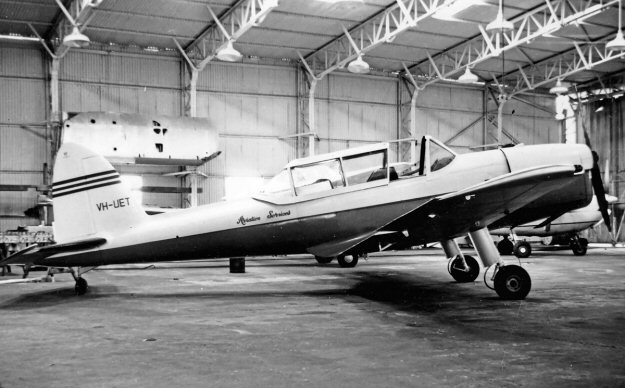 As indicated in the narrative for VH-UEC, Aviation Services, in the early 1960s, began replacing
their Tiger Moths with Chipmunks. Geoff Goodall's shot (above) was taken at the back of their
Parafield hangar on 21 July 1962 immediately after its completion of a rebuild from the wreck of
the former RAeCSA VH-BWA (which crashed at Naracoort,e SA on 26 May 1960), along with
the wings and components from other Chipmunks. The paint scheme was cream, grey and red trim.
It was added to the Register the following month only to crash at Whyalla, SA on 6 Oct 1962. The
student pilot took off with the fuel selector in the off position, and struck the ground heavily and cart-
wheeled. The wreck was returned to Parafield and ended up in an Adelaide scrap metal dealer's yard.
It was about this time that Aviation Services had a run of bad accidents which no doubt hastened the
abandoning of their country flying schools, including those at Whyalla and Port Lincoln.