VH-TSJ (1) de Havilland D.H.82A Tiger Moth (c/n DHA792)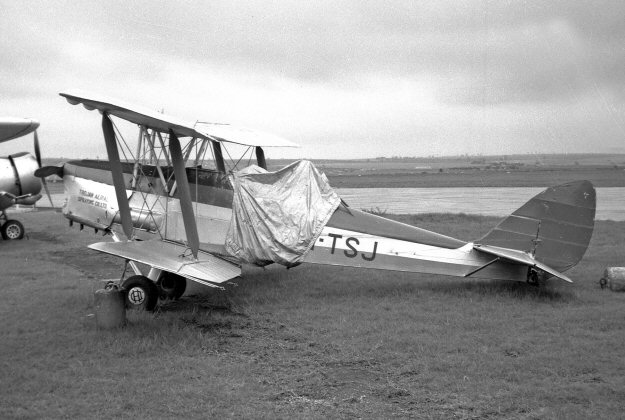 This was the former VH-RNW of the Royal Newcastle Aero Club and was one of the last Tigers
to be civilianized from RAAF disposals, being released at Tocumwal in 1956. It was previously one
of those Tigers built for South Africa and was to have been DX735, but became A17-642 instead.
It was later sold to Aero Service Pty Ltd, Perth who converted it for cropdusting as VH-WFP in
June 1959, but only a year later on-sold it to Trojan Aerial Spraying in Adelaide who reregistered
it as VH-TSJ. Geoff Goodall's photo above was taken at Parafield in May 1963 just after it had
been retired from agricultural work and purchased by several pilots working for Aerokair for private
flying. The second shot, also from Geoff's collection shows -TSJ in August 1963 under conversion
back to a two seater in the Aerokair hangar, agricultural hopper and equipment removed. That same
month DCA agreed to yet another registration change to VH-AKG.