VH-TSG de Havilland D.H.82A Tiger Moth (c/n DHC78

)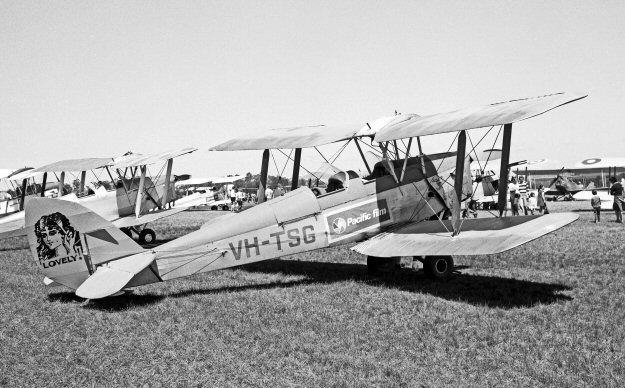 This Tiger was the former VH-RAW (1). It is one of those Tigers whose true provenance has
evaded all attempts to identify positively, and, despite its quoted c/n is almost certainly not a
Canadian machine.. (Incidentally there is now registered another, ex New Zealand, Tiger bearing
the rego VH-RAW). Anyway, this one was re-registered in 1965 and was an ex Robbys Air
Service aircraft which had been dismantled by that Parafield-based agricultural aviation firm and
acquired by Trojan Aerial Spraying who may, or may not, have used it as an active ag machine.
Whatever, -TSW had many other owners in the 1960s including a return to Trojan as a two-seater.
For a while in the 1970s it had non standard windscreens as seen in the photo above by Greg
Banfield taken at an air show at Camden, NSW on 1 October 1978. Geoff Goodall advises that
the lady's head emblem and name '

Lovely

' were the logo of the Pancake Parlour chain of restaurants
owned by entrepreneur Roger Meadmore, who also flew a hot air balloon over Sydney for publicity
purposes. This balloon also carried the name '

Lovely'

. The restaurants are, I believe, still going
strong today, certainly in Sydney and Melbourne. Ben Denneckers photo immediately below shows
-TSG over Surfers Paradise Gardens airstrip in December 1991 whilst owned by Bruce McGarvie
for his joy riding endeavor. (Ben was a pilot for this operation). VH-TSG is currently privately
owned in Queensland, and the shot below, by Ian McDonell, was taken at a private field near
Oxenford, Qld in November 2011..