VH-TPH Piper PA-20 Float (c/n 20-11

03)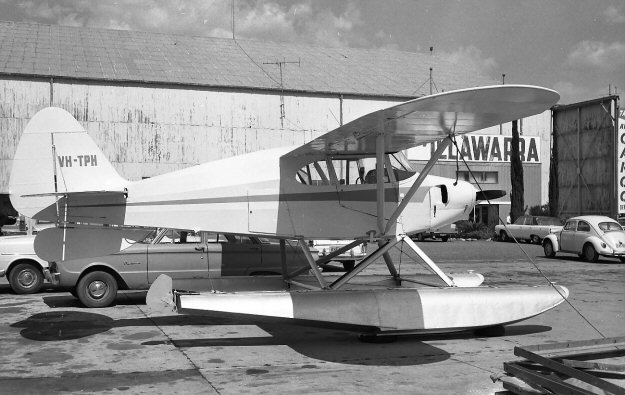 This was one of the last pure PA-20 Pacers built (there were only 1,121 of them, vs 9,848 of
the more popular Tri-Pacer/Colt/Caribbean line). Its U.S. rego had been N8133C. It is seen
above at Bankstown in September of 1968 in this shot by Geoff Goodall. It was the first of
Tom Harrison's fleet of floatplanes used for fish and prawn spotting contracts in NSW and
Queensland. VH-TPH was actually a rebuild of VH-AMA, which had come onto the register
at the end of 1959 from Dutch New Guinea where it had operated with Mafair (Missionary
Aviation Fellowship's aviation arm) as JZ-PTB. Below is a photo of -TPH at Bankstown in
April 1971 after Tom Harrison took it off floats and returned it to conventional tailwheel land
gear. (David C Eyre photo, via the Geoff Goodall collection). At the foot of the page is a
contemporary shot of the Pacer taken by Phil Vabre at the Antiquers' Fly-in at Griffith, NSW
in April 2010.