VH-TOM (4) Piper PA-23-250 Aztec C (c/n 27-3211)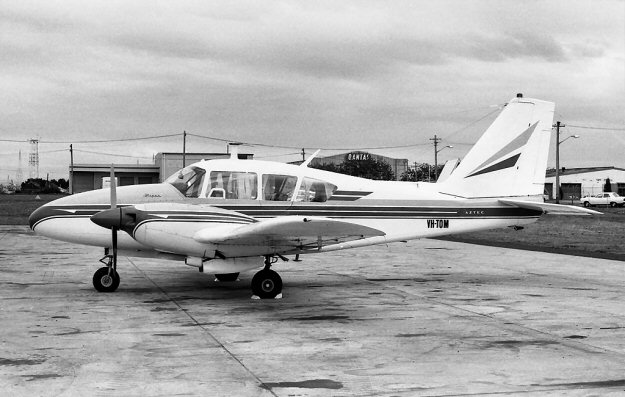 Ferried to Australia as N6027Y, VH-TOM was registered in October 1966, for Tom A. Barrett
of Orange, NSW. The Barrett family had owned a long list of aircraft commencing with a
Travelair biplane during World War Two. David Carter's picture of –TOM was taken at Mascot
in 1969. The Aztec was traded to aircraft dealer Jim Hazelton at Orange, and placed up for sale.
Meanwhile in Perth, Tom Wardle who was the Mayor of Perth and operated a successful chain of
stores named 'Tom the Cheap Grocer' was keen to obtain the registration VH-TOM for a brand
new HS.125 executive jet he had on order. A plan was hatched and Jim Hazleton sold the Aztec
to Tom the Cheap Grocer Corp, and then arranged its immediate export to the Solomon Islands
and re-registered it as VP-PAY in August 1970 . It returned to the Australian Register as
VH-AED two months later to new owners Aerial Enterprises Pty Ltd of Canberra.