VH-AED (3) Piper PA-23-250 Aztec C (c/n 27-3211)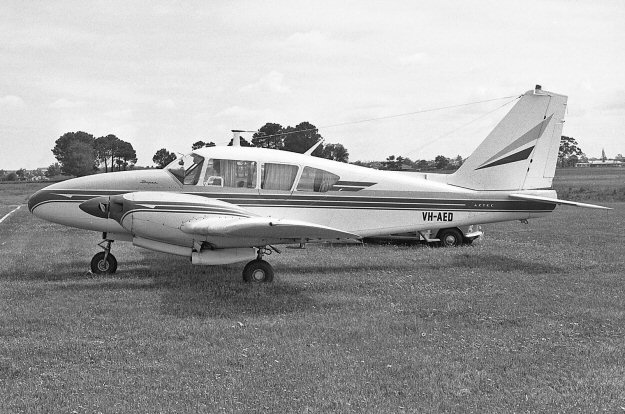 This Aztec was originally imported as VH-TOM (ex N6072Y) for Tom A. Barrett of Orange,
NSW. The Barrett family had owned a long list of aircraft commencing with a Travelair biplane
during World War Two. The Aztec was traded to local Piper dealer Jim Hazelton at Orange,
and placed up for sale. .Meanwhile in Perth, Tom Wardle who was the Mayor of Perth and
operated a successful chain of stores named 'Tom the Cheap Grocer' was keen to obtain the
registration VH-TOM for a brand new HS.125 executive jet he had on order. A plan was
hatched and Jim Hazleton sold the Aztec to Tom the Cheap Grocer Corp, and then arranged
its immediate export to the Solomon Islands and re-registered it as VP-PAY in August 1970.
In those days DCA barred registration changes so, in order for Wardle to receive the primo
markings, Hazleton exported the Aztec! Bankstown guru in those years, David Carter states
that the Aztec probably really did go to the Solomons, since he never saw it at Bankstown
after its sale abroad. Anyway, it was only there a couple of months before being repatriated
as VH-AED to new owners Aerial Enterprises Pty Ltd of Canberra. Tom Wardle thus had
his registration available to be allocated to his new jet (see my link). Geoff Goodall's shot of
c/n 27-3211 was taken at Perth Airport in September 1973, while the Aztec was owned by
Ted McGuire of the Wittenoom Tourist Centre who won awards for his ground and air tours
of the Wittenoom area in the Pilbara region of WA. He was also the aerodrome refueller at
Wittenoom. In August 2002 VH-AED was reregistered VH-ZHZ to Peter Ware, the chief
pilot of Horizon Airways at Mackay. It is unclear if it is on the Horizon flight line or a private
aircraft. Possibly the latter, since Horizon does not list an Aztec as part of its fleet.