VH-TGQ Piper PA-23-250 Aztec (c/n 27-405)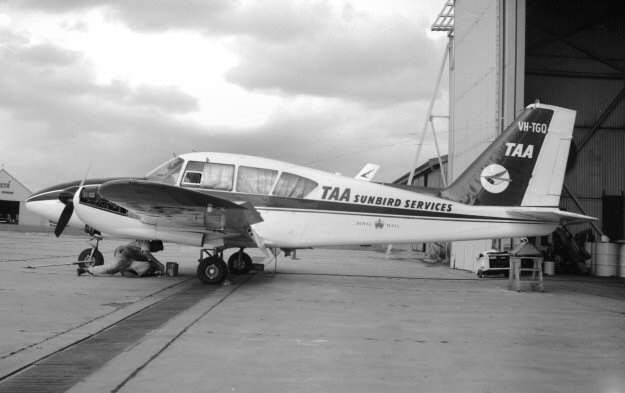 This was the former VH-AVT of Avis Rent-a-Plane. In April 1963 a deal was struck between
Avis and TAA allowing the evaluation of the Aztec by the airline and as a result it was re-regis-
tered VH-TGB and painted in TAA's New Guinea regional 'Sunbird Services' livery. When, in
July 1964 TAA acquired its four Beech Queenairs VH-TGA-TGD, the Aztec was re-registered
VH-TGO. The "G" designator in the middle of the rego sttod for "General" aviation. . Several
weeks after this re-registration, an embarrassed DCA Vic/Tas Region (for whom I used to work)
discovered that the NSW Region had allocated VH-TGO to a Cherokee so TAA were offered
VH-TGQ as a means of offsetting much expensive repainting! (In "my day" by the way, that
wouldn't have happened since all regos were allocated out of Melbourne). Greg Banfield's shot
of it (above) as -TGQ was taken at Bankstown in April 1965. VH-TGQ was withdrawn from
the New Guinea theater of operations in December 1966 and repainted without TAA titling. It
went to the Royal Victorian Aero Club (although still registered to TAA) and was used in the
airline's pilot training program. Geoff Goodall's photo (below) shows it on the line at Moorabbin
in September 1967. . This Aztec was withdrawn from service in December 1983.