VH-TGA Grumman G.73 Mallard (1) (c/n J13)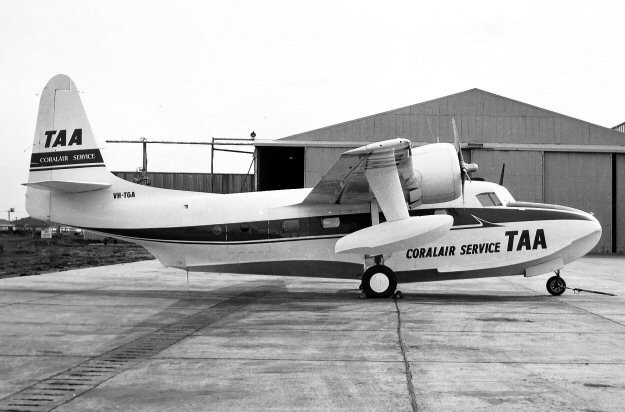 VH-TGA was acquired by TAA ostensibly to provide an amphibian service from Mackay, Qld
to the resort destinations of Shute Harbour and Brampton Island. In the event the service was
discontinued after only a month due to adverse sea conditions. VH-TGA had been purchased
in July 1962 by Peter Ahrens of East Coast Air Services of Coolangatta from Biak in Dutch New
Guinea where it had been registered JZ-PCB. He originally planned on using it on Ansett-ANA
tourist runs to the Barrier Reef islands to replace their Catalina VH-BRI which sank on 8 July 1962.
However, its Australian CofA inspection dragged on longer than was expected and TAA purchased
it when that certification was finally forthcoming in June of 1963. As indicated, it didn't work out
and -TGA was sold in New Zealand becoming ZK-CDV. The nice photo above was taken by
John Hopton at Essendon in August 1963 just prior to the aircraft leaving for New Zealand.