VH-SWC (1) Yeoman YA-1 Cropmaster 250 (c/n 112)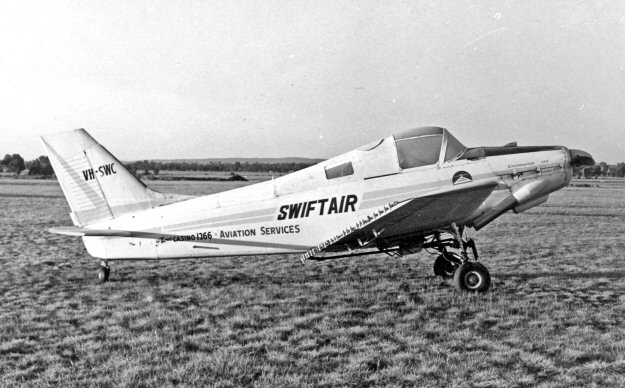 Here's a shot from the Geoff Goodall collection of Cropmaster -SWC at Casino, NSW on a
chilly morning in 1967 covered with overnight dew while in service with Swiftair, who were
based in that northern NSW town. It was the former VH-FPB, first registered in July 1963.
In March 1974 this Cropmaster was completely submerged in flood waters at Swiftair's base
at Lismore airfield and withdrawn from service. It was sold "as is" to Eveready Air Spray who
moved it to their base at Wee Waa, NSW as a spare aircraft. When that company was sold
its founder Peter Meek stored -SWC on his property new Newcastle, later selling it to an
Albury agricultural pilot who commenced work on restoring it. Its current status is not known.
The photo below is by Mike Vincent and was taken at Wee Waa, NSW in August 1976 when
the aircraft was parked in open storage.