VH-SSE (1) de Havilland D.H.82A Tiger Moth (c/n 82774)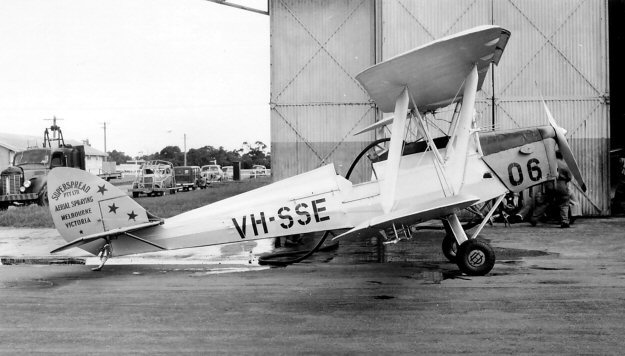 This was previously was VH-AIT (which was originally to have been VH-AFM - not taken
up). Super Spread acquired it in April 1954. My shot at Moorabbin was in June of that
year. This second -SSE crashed on 6 Feb 1960 near Myrtleford Vic, while crop dusting.
The aircraft struck power lines from a height of 150ft. The pilot suffered minor injuries but
the aircraft was totalled.

Incidentally the first VH-SSE was c/n 97 (A17-100) and ex VH-ARN. It was damaged
beyond repair in a crash in September 1954. I doubt I'll ever glean a shot of it.