VH-SBV Canadian-Vickers OA-10A Canso (c/n CV592)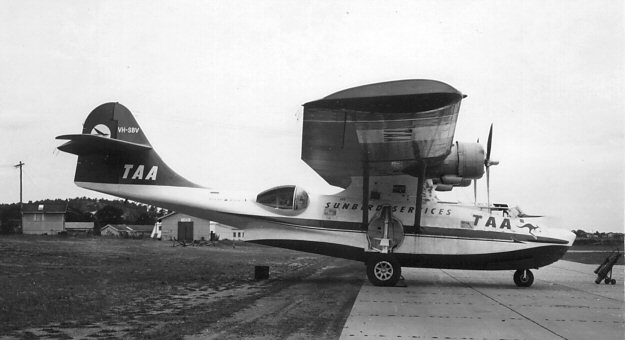 This aircraft was built in Canada for the USAAF as 44-34081. When civilianized it was originally
owned by Macao Air Transpo t registered, VR-HDH.. Trans Australia Airlines purchased it in
1962 for part of its New Guinea 'Sunbird' operation and it is seen above in this image (via the
Jennifer Gradidge collection) at Jackson's strip at Port Moresby in 1966. (See the entry under
VR-HDH for a rare shot of it from the Bob Smith collection in TAA livery at Hong Kong). Bob
also sent me the nice shot of it (below) in its element in New Guinea in the mid 1960s. The aircraft
flew services around the New Guinea coast from 1962 until 1966 when competition from land-based
aircraft made the flying boat operation uneconomic. When retired it was destined for a museum in the
New Guinea area, but, in the event, was left to rot. The remains were purchased by a New Zealand
group in 1979 and it is currently under restoration to represent a RNZAF machine. Phil Vabre's
contemporary shot of it (2008, foot of page) shows it reposing at the RNZAF museum at Wigram.