VH-RWP (1) Cessna 210 (c/n 57387)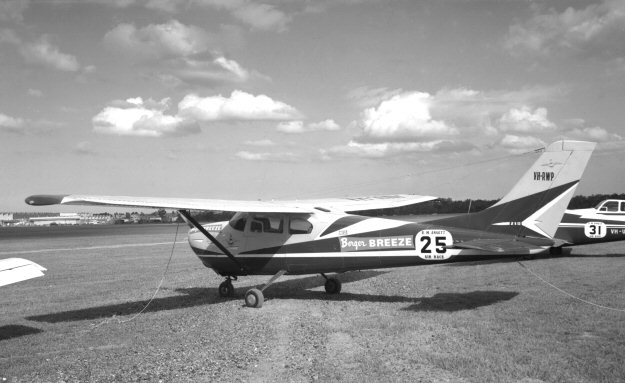 This Cessna 210 was flown in the Ansett Air Race by R.E. Bower of Claremont, WA. Greg
Banfield photographed it during the overnight stop at Bankstown on 29 March 1964. Presum-
ably 'Berger Breeze' was the sponsor. It had originally been registered on 7 July 1960 to the
Royal Aero Club of WA, which at that time had moved out of Maylands aerodrome and was
based at Perth Airport (Guildford). It arrived on delivery from Rex at Bankstown on 13 July
1960 flown by Club manager Harry Beek and chief engineer Stan Chappel. It was finished in

a bamboo and dark blue scheme and the club decided that it would not be repainted into the

standard club red and white livery as on their training fleet. After the aero club moved to the

new Jandakot Airport, -RWP was traded to Rex Aviation's Jandakot division in October 1965

and reregistered

VH-RLI

.