VH-REF (2) Reims/Cessna FR172 Reims Rocket (c/n FR172-0024)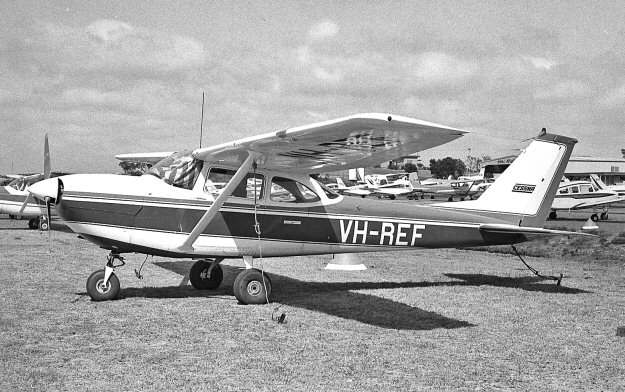 In February 1960 Cessna acquired a 49% interest in Avions Max Holste in France and changed
the name of the company to Reims Aviation. This organization built models 150, 152, 172, 177,
182 and 337 for the European and Middle East markets. Basically these French built Cessnas
were identical to their US built counterparts but there were certain models which were unique to
the French company. One such was an uprated 172 known as the Reims Rocket, with a 210 hp
Rolls-Royce built Continental IO-360-D. Up until 1970 95% of all Cessnas imported into Aust-
ralia were Wichita built. There were, however, a handful of French built machines. VH-REF,
seen above in this nice shot from the Geoff Goodall collection, taken at Jandakot in October 1969
was one of them It was owned at the time by Mileura Pastoral Company of Mileura Station, via
Cue, WA. This aircraft was first registered in June 1968 as VH-REH to Rex Aviation at Banks-
town. For some odd reason it was changed the following day to VH-REF. It appears, however,
not to have been re-painted for some time, since it was entered in the Weekend News Air Trial
from Jandakot to Carnarvon as VH-REH in October 1968. Even more odd was the fact that
whilst it was sighted in and around the Perth area (or at least recorded in logs that way) during
1969 as VH-REF, Geoff managed to take a photo of it as VH-REH (see next entry) as late as
22 December 1969! Thus far no logical explanation has been made for these sightings.
VH-REF is still current, still in WA, and now based at Port Hedland.