VH-PXB Zlin Z.126 Trener II (c/n 7

62)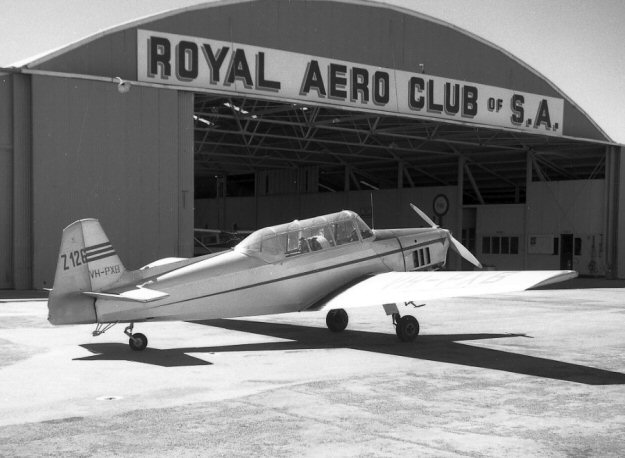 Here's another Czech design. The Z.126 was an all metal version of the highly successful Zlin Z.26
which had been ordered in numbers by the Czech Air Force. This Zlin was actually the first of several
to be registered in Australia, this one coming onto the register in November of 1956. It was originally
used as the demonstrator aircraft by Phoenix Aviation. Geoff Goodall took this nice shot at Parafield
in February of 1963. This aircraft was unfortunately destroyed by fire very shortly after this when it
was involved in a collision with a Tiger Moth (VH-MWN) at a fuel pump on 1 April, 1963. Geoff
Goodall provides the following details, taken from a AHSA Journal: "The Zlin was evidently parked
at Bankstown when the Tiger Moth, piloted by K. Attneave, taxied into it. The Tiger Moth's propellor
struck the Zlin's fuel tank, and the resultant fire destroyed the Zlin and badly damaged the Tiger Moth
before the airport fire service could extinguish the flames". The image below from the Daryl Mackenzie
collection, shows the carcass some eleven days after the fire on 12 April 1963.
Meanwhile VH-MWN (c/n LES.4) went on to a long life, and Goodall remembers that it was always
parked in a dilapidated open-fronted hangar at Ararat aerodrome in the late 60s. There was a CA-6
Wackett fuselage in the grass alongside, but around 1970 they demolished the old hangar and cleared
up the area. VH-MWN was then moved to one of those shiny new hangars whose doors were always
locked with no gaps to peer inside. We're all familiar with those.