VH-MWN de Havilland D.H.82A Tiger Moth (c/n LES4)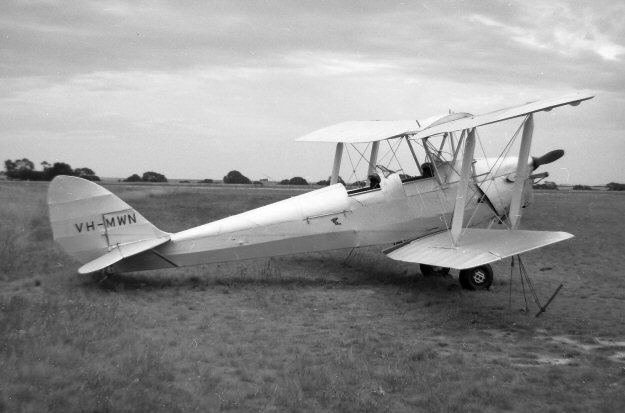 Those Lawrence Engineering built machines were certainly sturdy creatures. They built 11 of them
from Feb 1959 until June 1962, made up from old parts inventories which they had. This was the
Tiger that was involved in the accident which destroyed Zlin Trener VH-PXB. It occurred at Bank-
stown on 1 April 1963 when the Tiger Moth, piloted by K. Attneave, taxied into it. The propeller
of the Tiger Moth struck the Zlin's fuel tank, and the resultant fire destroyed the Zlin and badly
damaged VH-MWN before the airport fire service could extinguish the flames. VH-MWN went
on to lead a long life, and the above shot was taken by Geoff Goodall at Ararat, Victoria in early
1965. It was, Geoff states, usually parked in a dilapidated open-fronted hangar at Ararat in the late
60s. Below it looks identical in this earlier shot by Bob Neate taken at Narromine in 1963 when it
was owned by R. C. Berry, of "Wilkerboon" via Nymagee, NSW. It is still on the register and now
lives in South Australia. Greg Banfield's color shot at the foot of the page was taken at Berwick in
February 1975.