VH-PVL Piper PA-31 Navajo (c/n 31-301)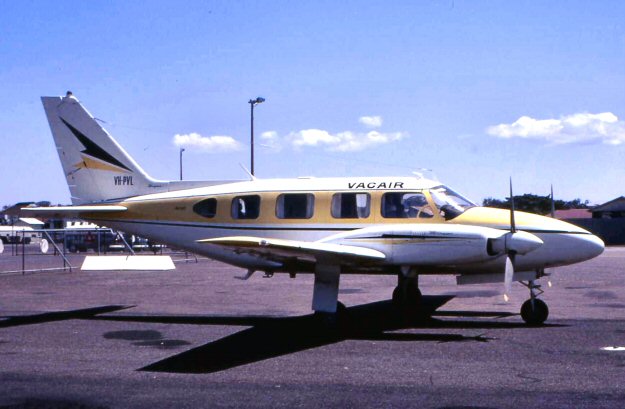 Registered in March 1969 to Vaculug Australia Pty Ltd of Toowoomba, Qld, this Navajo had
been flown out on delivery from the US where it was previously N9233Y. It arrived in Sydney
on 24 January 1969. It replaced an Aztec VH-MFG which was previously owned by Vaculug
and operated on charter under the name Vacair. Interestingly, VH-PVL had been allocated a
few months earlier to another Navajo (c/n 31-285) which for some reason was not delivered.
John Wheatley's shot above of it in Vacair titling was taken at Bankstown in 1971. In 1971
Vaculug sold -PVL to Perth charter outfit Airwork Australia Pty Ltd and Geoff Goodall's shot
immediately below shows it at Perth Airport in December 1971 . By 1974 it was with Santos
and operated their runs to the Moomba oil fields. Geoff's later shot (bottom of page) was taken
at Adelaide in August 1974. It then went to Australasian Jet Pty Ltd and was re-registered
VH-TTM in May 1997. As such it is still flying.