VH-POM Piper PA-30 Twin Comanche (c/n 30-114)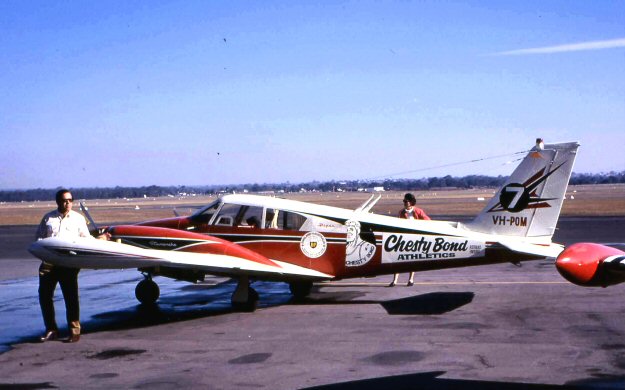 This was previously one of the many aircraft registered VH-TOM (and VH-BIC before that).
Presumably the underwear company was its sponsor for the Rally into which it had been entered.
This machine was also in the earlier R.M. Ansett Air Race (when it was VH-BIC).
John Wheatley's shot above was taken around 1971. Locale unknown. It has recently been
purchased by Evan Slatyer, whose photo below shows it at Murwillumbah Airport awaiting
overhaul. I believe Evan wishes to restore it to its original Piper paint scheme. By the way, if
any other Twin Comanche experts see this entry, note that Evan is also anxious to get details of
the original interior/upholstery. Please contact me.