VH-MWQ Douglas DC-3CS1C3G (c/n 9593)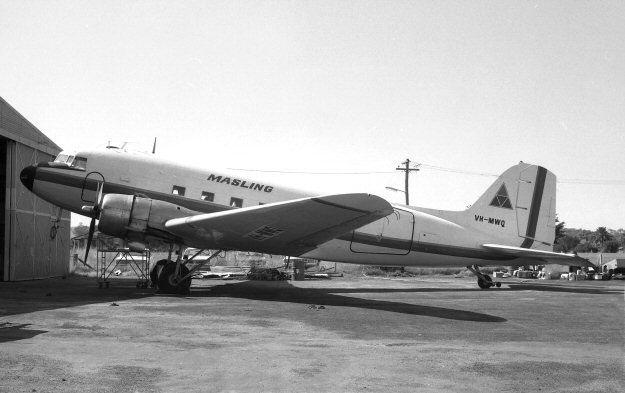 VH-MWQ was the former P2-ANS, P2-MMA, VH-MMA, and 42-23731.

It was added to
the Register as VH-MWQ on 18 June 1976 in the name of Masling Commuter Services Pty Ltd,
of Cootamundra, NSW. It is seen at that venue in March 1979 in the above shot by Greg Banfield.
This old DC-3 was sold in September of that year to
Setair Pty Ltd, of Melbourne, and yet again
on 28 July 1983 to Air North Pty Ltd, of Winnellie, NT. Danny Tanner's shot below shows it at
Essendon in April 1982 in Setair livery. A couple of months later (in November 1983), in a
rather unprecedented (although not totally unknown) move, the rego was changed back to
VH-MMA. Masling had requested a new identity since MacRobertson Miller were still, when
they received the aircraft, a registered company, and Masling wished to avoid the public at large
assuming that the aircraft was still owned and operated by MMA!