VH-MMA Douglas DC-3CS1C3G (c/n 9593)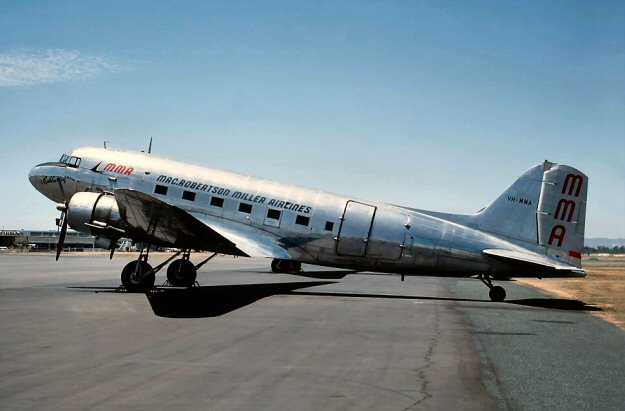 Built as a C-47A-30-DL in 1943, this aircraft was assigned the USAAF serial 42-23731 but almost
immediately was shipped to the RAAF to become A65-13 with call sign VHCTL. It was civilianized
in 1947 for MacRobertson Miller Aviation Co. Ltd (the company's first DC-3) and was named 'RMA
Ashburton'. In 1966 the company changed its name to MacRobertson Miller

Airlines

. The shot above,
from the Peter Gates collection was taken at Perth Airport sometime in the late 1960s. The rendition
below (# 2) from the Geoff Goodall collection is from the same era and was taken at Perth Airport in
June 1968. Oddly, I do not have a shot of it in original MacRobertson Miller Aviation colors, but
image (# 3) from Geoff's collection below shows an earlier MMA titling. This is a take-off view of
the DC-3 at Rottnest Island on 16 November 1957 recording the inaugural of MMA DC-3 service
to this small resort isle just off the city of Perth. The island had previously been served by Woods
Airways Ansons VH-WAB & WAC since the late 1940s, and later Airlines (WA) Ltd put their
Doves on the run on weekends for day-trippers. By 1957 MMA were introducing DC-3 comfort
on what was, I believe, billed as the world's shortest scheduled air route In 1969 -MMA became
part of the Ansett Transport Industries fleet and went to New Guinea with Ansett Airlines of PNG.
Merv Prime's shot (# 4, via Geoff Goodall) was taken at Perth on 9 February 1968 just before the
aircraft left for PNG. It staged through Forrest, Whyalla, Broken Hill, Rockhampton, and Cairns to
Lae. It had flown its final MMA service on 17 January 1969, when it flew from Mount Newman to
Perth. Total airframe hours by that time were 54,620. In 1974 it was sold to Air Nuigini, the national
airline of the by then independent former Australian mandate, where it became P2-MMA. A lease to
Connair in 1974 saw it restored, briefly, as VH-MMA before returning to PNG as P2-MMA. This
rego was changed in 1975 to P2-ANS. The following year it again returned to Australia having been
sold to Masling Commuter Services and was re-registered VH-MWQ. This ownership did not last
long and it was withdrawn from use at Bankstown in 1977. In 1979 it was sold to Setair Pty Ltd and
in 1983 to Air North. Upon this latest move it was inexplicably (at least to me) re-registered back as
VH-MMA. Greg's Banfield's photo # 5 below was taken at Bankstown in December 1983 and
shows it in Air North's original livery. In 1993 it was registered to the Vintage Aircraft Company of
Fanny Bay, Northern Territory, a subsidiary of Air North, and placed into open storage at Darwin
Airport, which is probably where shot # 6, via Phil Vabre was taken. . It was then purchased by
John Hardy (Managing Director of Air North) trading as Hardy Aviation, and rebuilt in Darwin in
2000/01 by Nick Belfield and Michael Amiet of SAE Aircraft Maintenance. Photo # 7 by Russ
Legg is is comparatively contemporary (2009) and was at Darwin showing -MMA with Hard Avia-
tion's logo on the tail. It is still active, being registered to Vintage Aircraft Co, mainly flying charters
but is, I believe, also used for parachute dropping operations.


2

.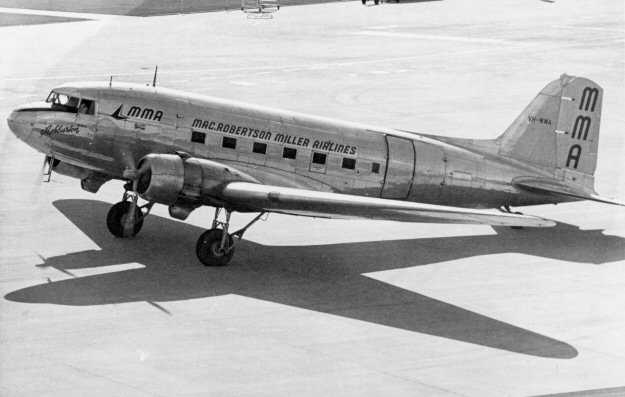 3.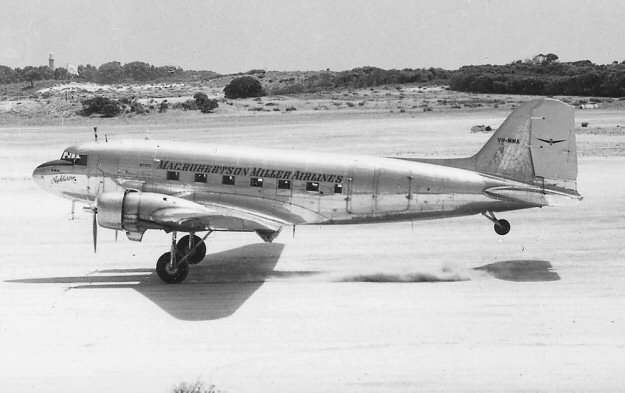 4

.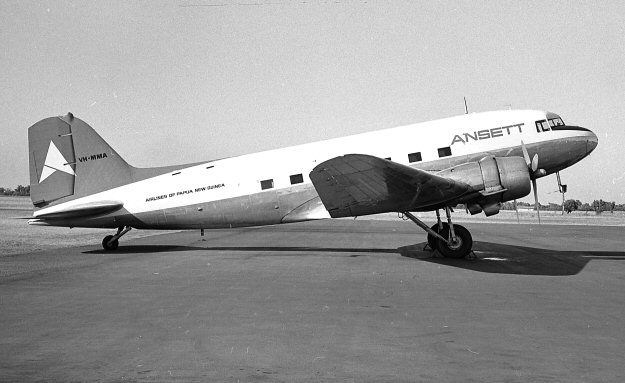 5.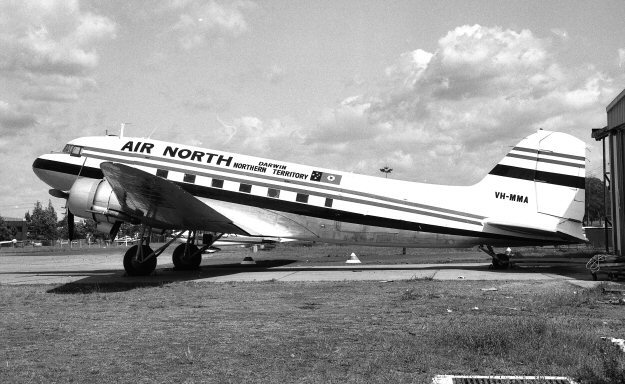 6.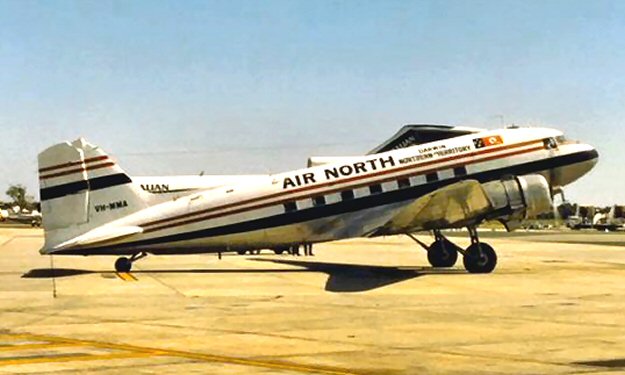 7.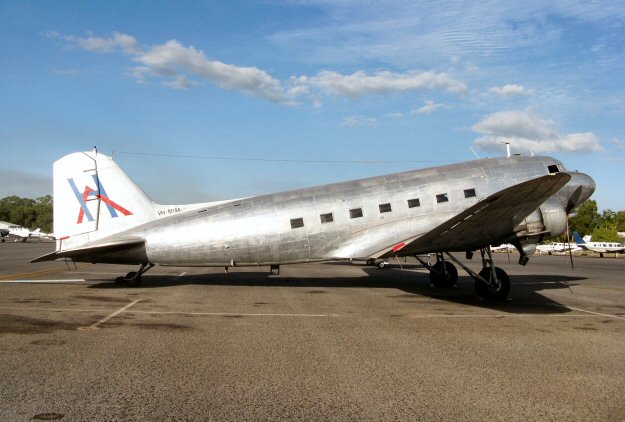 .