VH-MMG Avro 652A Anson 1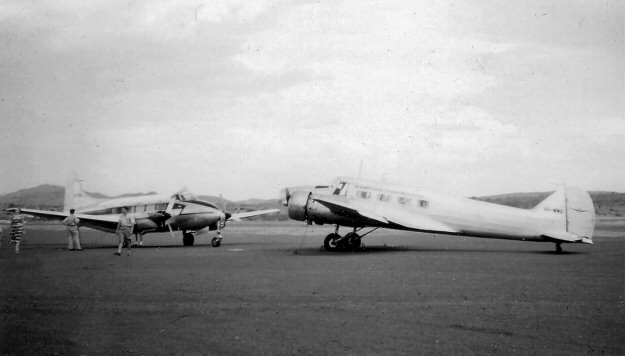 This rare image, from the Geoff Goodall collection was originally taken by Colin Hayes at Halls
Creek, WA in December 1953. It depicts VH-MMG (

"RMA De Grey"

) with the Mandated
Airlines' Dove VH-MAL on a refuelling stop. The latter was on its delivery flight from New
Guinea to Perth to join Airlines (WA) Ltd where it would become VH-AWE. VH-MMG was
the former RAAF W2164 civilianized in November 1946 as VH-AYN. It was acquired by Mac-
Robertson Miller Aviation and later re-registered into their series in 1949. This Anson was lost
in a tragic accident on 4 February 1956 whilst on a Royal Flying Doctor Service VFR emergency
flight from Tableland Mission to Derby during tropical thunderstorms at night after collecting a
critically ill child to be taken to Derby Base Hospital. The aircraft went missing and a search
by 16 aircraft over 3 weeks finally located the wreck on 24 February. MMA Captain Pieter van
Emmerick, two nurses, the patient and the child's father had all been killed.