VH-AYN Avro 652A Anson 1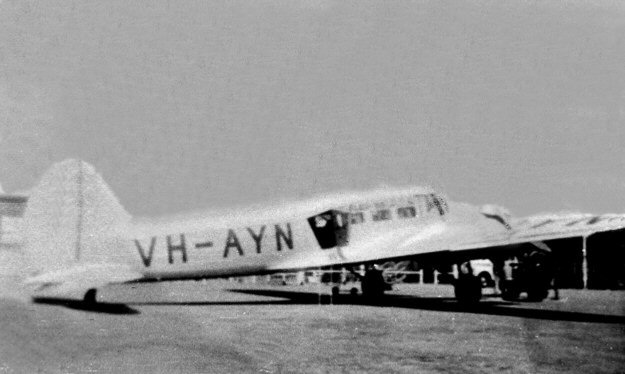 A very rough image from the Geoff Goodall collection. The photograph was taiken at Katherine
in the Northern Territory in 1948. At the time -AYN was on the asset register of MacRobertson
Miller Airlines, based in Perth. The alternate Sunday flight left Perth at 06.00 and staggered into
Katherine at 17.40 the next day. Interim stops were made at Geraldton, Carnarvon, Onslow,
Roebourne, Port Hedland, Broome (overnight stop), Derby, Wyndham, Wave Hill and Victoria
River Downs. Try

that

in an Anson. VH-AYN, which was W2164 in the RAAF was re-regis-
tered within the Macrobertson Miller series in 1949 as VH-MMG. Sadly it crashed while being
flown for the Royal Flying Doctor Service on 4 February 1956 between Derby, WA and Table-
land Station in a tropical thunderstorm killing a sick child, her father, 2 nurses and the MMA pilot
Captain P.J. van Emmerick.