VH-MJR (1) Douglas DC-3A-447 (c/n 6353)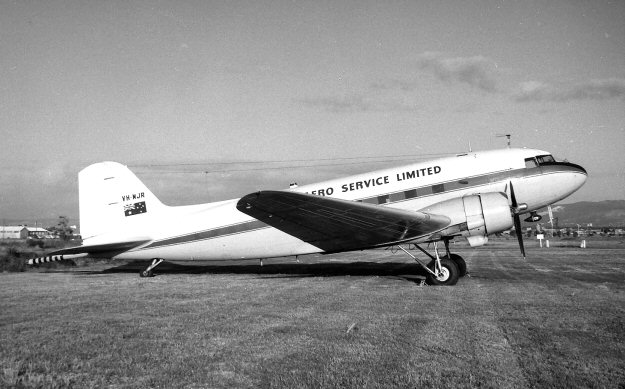 VH-MJR was one of those 1942 DC-3s destined for the airlines, but pressed into military service
following the Japanese attack on Pearl Harbor. Ostensibly it was to have been NC34960 for Pan
American's Latin American Division. In the event it wound up as a US Navy R4D-4, BuAer No
33818. In 1946 it was civilianized as NC9032H for Aero Service Corp, a survey company. In
1961 it was either sold or leased to M. J. Lawrence Holding, Ltd of Sydney, an Australian geological
concern. The aircraft was operated in Aero Service titling, as seen in Geoff Goodall's shot (above)
taken at Adelaide in December 1964 (note tail survey probe). The image below was taken at Mascot
in April or May of 1965 by Doug Morrison, and soon after this the aircraft was sold to MacRobertson
Miller Aviation becoming VH-MMT and joining their fleet with the name

'Turner'

. In December
1969 it was sold to Seulawah Air Service in Indonesia as PK-RDG. It was later sold off to Mandala
Airlines changing its rego again, this time to PK-OSA (Circa Jan 1978). C/n 6353 was last noted
somewhat derelict at the old Keymayoran Airport in Jakarta in April 1980, still in Seulawah markings.
No doubt scrapped when the airport closed. At the foot of the page is a photo by Bob Neate showing
the DC-3 at Essendon in 1961 as N9032H. It was owned by M.J. Lawrence Holdings at that time.