VH-MIN Douglas DC-3CS1C3G (c/n 13459)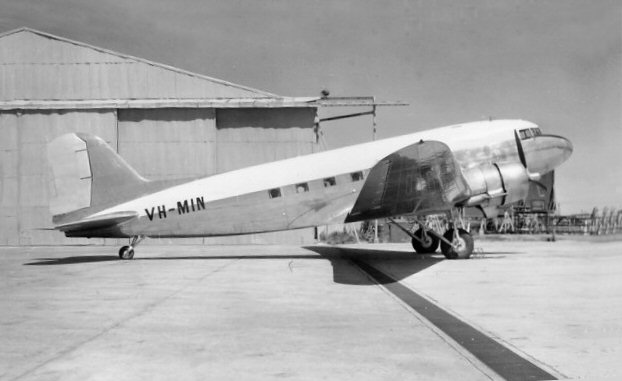 This DC-3 has had a long and varied career, and has probably been registered to more different
owners than any other aircraft in Oz! Ex RAF Dakota III KG647, it was leased for a couple of
months in 1946 to BOAC as G-AIAZ. In September 1946 it was sold to John Fairfax & Son
Pty Ltd as VH-SMI to be used to deliver Sydney Morning Herald newspapers to outlying NSW
towns. Withdrawn from this operation in 1952 it was later sold to the Commonwealth Government
Bureau of Mineral Resources in 1953 and re-registered VH-MIN in December 1954. I saw it
at Essendon above, immediately after it appeared from DCA's maintenance hangar with its new
registration. Immediately below is a color shot by Neil Follett at Whyalla, SA in 1965. Note
aerial magnetometer fitted on the tail. . It did extensive survey work in Tasmania, Broken Hill
and the Mt. Isa-Cloncurry areas. Withdrawn from Commonwealth use in 1972 it was advertised
for sale by tender. Various deals seemed to fall through, although it was registered to Gulf Enterprises
of New Guinea and Helicopter Utilities (later to become Airfast), before going to Connair in August
1974. It is seen below (photo no 3) in Connair's image by Danny Tanner Essendon in June 1980
In 1981 -MIN was sold to Northern Airlines in Alice Springs although shortly thereafter went to
Setair. Sold again and registered to Rebel Air Pty Ltd of Sydney it is seen in photo no 4 below at
Richmond, NSW by Barry Maclean In 1984 it was canelled from the VH- register when regis-
tered to the San Wee Company It then underwent a major airframe inspection and sold to
D. Johnstone of Colbinra Transport Company who used it for tourist flights and VIP charters.
In 1994 it was sold to South Pacific Airmotive as seen in Peter Hough's photo (no 5). Finally in
2004 it was sold to Dakota National Air t/a Discover Air. Ian McDonnell saw it at Bankstown
in 2007 sans engines (foot of the page). Ian advises (2015) that it has become one of several


Dakotas to end up at a farm strip in Larras Lee NSW, its final fate being unknown.