VH-KWF DHC-2 Beaver 1 (c/n 1575)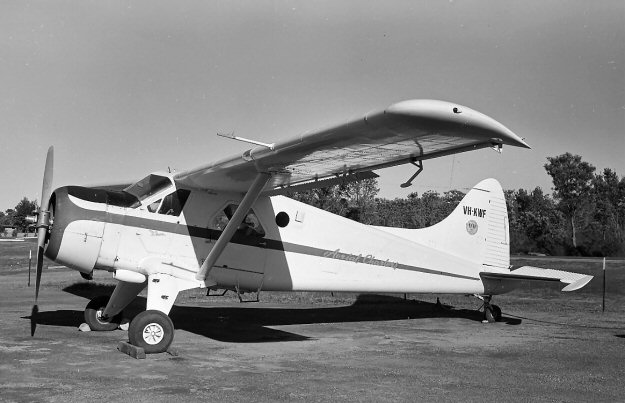 VH-KWF was originally registered VH-KWK by KWK Transport, Derby WA in June 65.
It was traded to Hawker deHavilland at Jandakot in July 67 on a new Bonanza -KWK and
the Beaver was re-registered -KWF. In November 1968 the Beaver was sold to a Perth
charter company Adam & Marshall Pty Ltd and based up north supplying and supporting the
iron ore mine and railway line construction boom going on at that time. In 1970 it continued
in the same work with Australian Transport Airservices (ATA) at Jandakot who were a
thriving charter outfit at the time. It was then traded back to Hawker deHavilland at Jandakot
in Aug 71. It was sold to Laurentian Air Service in Canada in April 1972 becoming CF-CCJ.
Geoff Goodall's shots on this page were all taken at Jandakot, Pertth and show it (above) in July
1968 in Hawker DH's area with "Aerial Charters" titling, (middle) in February 1970 wearing Adam
& Marshall Airways Pty. Ltd , Perth, West Australia titling and (lower) back at Hawker DH's
again in December of 1971 repainted with a very original looking de Havilland Canada Beaver
style livery.