VH-KAM (2) de Havilland (Riley) D.H.114 Heron 2D (c/n 14123)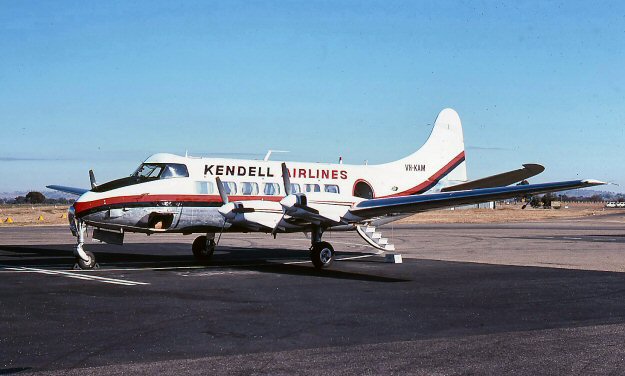 Although not flown by Connellan Airways/Connair, this Heron was purchased by them from
Air Pacific (formerly Fiji Airways' VQ-FAF; DQ-FAF) in 1975 and ferried to Alice Springs
for Riley Heron conversion with Lycomings. In the meantime it was sold to Kendell Airlines
at Wagga and registered to them as VH-KAM on 16 Dec 1975. Chris O'Neill's photo (above)
was taken at Kendell's Wagga, NSW HQ in 1978. Like VH-CLV it later went to Davey Air
Services of Dubbo, NSW. Chris's shot below shows it at Sydney in December 1980, just after
being acquired by Davey for its third level local services in NSW. In the 70s and 80s there
must have been some sort of love affair or mutual attraction between Herons and the South Sea
Islands for in 1985 -KAM found itself in operating in that region again, this time for Tongair out
of Tonga. Just why it wasn't re-registered into the A3- series is not clear, although possibly the
lease was short one. . Anyway, Tony Arbon took a shot of it at Sydney in July 1985 as seen in
picture # 3. Finally, in their quest for Riley Herons, Airlines of Tasmania acquired it in 1986
and Roger MacDonald caught it at Essendon in March of that year (image # 4 below). It is now
retired and exhibited at the Queensland Air Museum in Caloundra
(All photos in this entry via the Geoff Goodall collection)


2.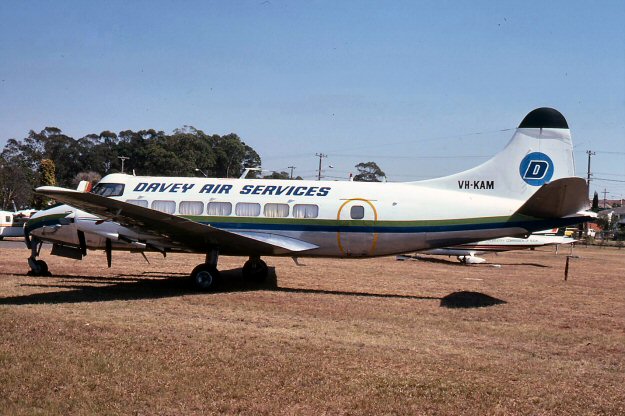 3.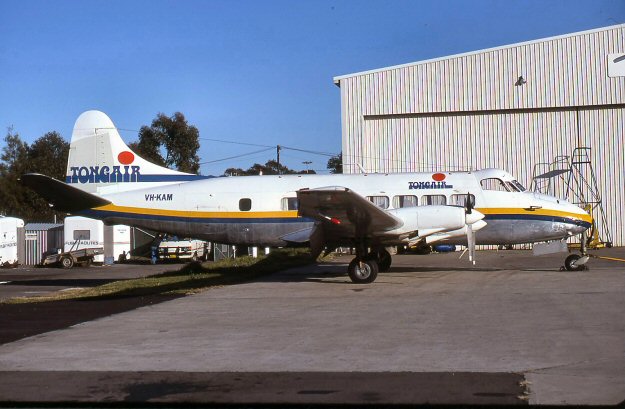 4

.