VH-INZ Douglas DC-4 'Ratmalana' (c/n 3077)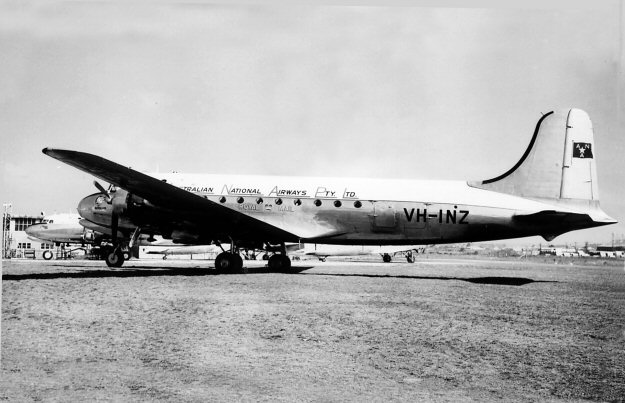 VH-INZ was a very early DC-4, built in 1943 as a C-54A-DO (first block) but went immediately
to the US Navy as a R5D-1. Like VH-INY it was also owned, after WW II, by the Matson
steamship line and then sold to Air Ceylon. After stints as VP-CBE and CY-ACB, it was acquired
by ANA in 1950. When the DC-6s joined the fleet, VH-INY was re-painted in the pseudo-National
Airlines livery, as my shot below illustrates. Following its sale in 1957 to Twentieth Century Airlines
as N5512V it led a convoluted life with many operators:, to wit: As HP-351 with Aeronaves de
Panama in 1962; as 5N-AFC with Pan African Airlines in 1966; was to have become VP-BCX
with Caribbean Air Charters in 1967 but the deal fell through; went instead to Crossroads Aviation
as N11117 and wound up in Phnom Penh in 1975. It is quite possibly still there.