CY-ACB Douglas DC-4 (c/n 3077)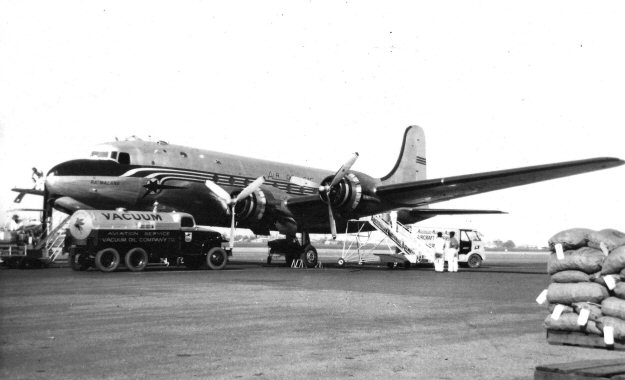 Air Ceylon was founded in December 1947 and was based at Ratmalana Airport, Colombo.
International services commenced in 1949 and were operated in partnership with Australian
National Airways using two DC-4s, VP-CBD and VP-CBE. In 1950 these were re-registered
CY-ACA and CY-ACB respectriely. The above photo is from the Bruce Robinson collection,
and was taken when Keith Virtue, seconded from ANA, was its captain. Unfortunately, since
the registration is not visible I am not sure if it was as VP-CBE or CY-ACB at the time this
photo was taken. I am guessing it was as CY-ACB. To prove its identity I will append an
enlargement of the nose below with the name

'Ratmalana'

clearly visible. At the foot of the
page is a reproduction (poor, but better than nothing, and possibly a drawing) of an illustration
which appeared in a 1949 magazine advertising Air Ceylon as 'The Trunk Route of the Orient'.
The DC-4s were working into London Heathrow at the time and shows

'Ratmalana'

in profile
as VP-CBE. In December 1950 this DC-4 joined the main ANA fleet as VH-INZ.