VH-FLB Fletcher FU-24/A4 (c/n 95)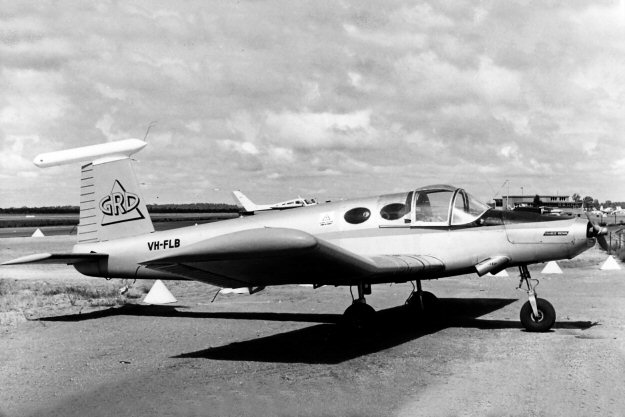 VH-FLB was the second of the two Fletcher FU-24s operated by GRD Co of Sydney. It was
formerly ZK-CLT. . VH-FLA was the other Doug Morrison, who flew these aircraft, indicates
that basically the aircraft were underpowered for the workload required of them, although VH-FLB
had a more powerful power plant than -FLA. Even so, in hot weather and under certain loads, the
aircraft had difficulty in climbing away! They were, evidently, only interim aircraft until replaced by
Islanders VH-FLD, -FLE and -FLF. The holding company for GRD was R&L Holdings Pty Ltd,
so named for the initials of the two founders, Bob Reckeweg (a former US Navy WW II fighter pilot
and ex G.M. for both Aero Service Corp of Philadelphia and Canadian Aero Service Ltd in Ottawa)
and Brian Lenon (formerly with Adastra and later the Aero Service Corp agent in Australia) .

The
photo above was taken by Merv Prime at Jandakot, Perth in April 1969 (via the Geoff Goodall's
collection). A less than outstanding image of -FLB from the Barry Maclean collection appears
below, although it does illustrate the yellow and silver paint scheme. After two years on survey
work they were both sold and reverted to agricultural aircraft. At the foot of the page is a photo
by Chris O'Neill showing -FLB back as an ag machine with Bathurst Pastoral Airwork in February
1975. Prior to that it had been operated by Pays Air Service at Scone. It is still currently registered
(to Lonoaks Pty Ltd of Armidale), CASA referring to it as an Air Parts (NZ) Ltd FU-24, which,
theoretically, of course, it is. After production of Fletchers ceased in the US in 1965, Air Parts (NZ)
took up production. Air Parts was originally formed in 1957 to market FU-24 parts. AESL
(Aero Engine Services Ltd) and Air Parts (NZ) merged in 1972 to form NZ Aerospace Industries
which continued production of the FU-24 series in Hamilton. In 1982 NZ Aerospace went into
receivership, and was purchased by Agricultural Holdings.