VH-EWZ Avro 652A Anson 1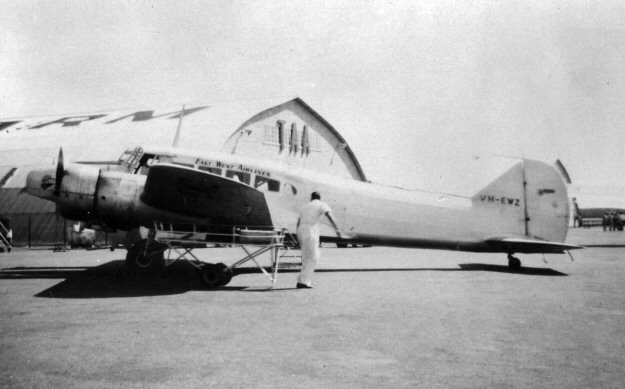 This was the former VH-EWA, re-registered after the first Hudson was acquired by East-West
Airlines. The above shot is from the Gus Grulke collection and was taken at Brisbane's Eagle
Farm Airport in 1951. VH-EWZ was the last East West Airlines Anson in service, and was
used on scheduled services between the home base at Tamworth, NSW and Glen Innes, Armi-
dale and Brisbane. It flew the very last EWA Anson flight in October 1951 and the airline then
advertised -EWZ and all its Anson spares for sale. It was sold to Airlines (WA) Ltd in 1951
who were still large Anson operators. Seen below is a John Smith photo of VH-EWZ passing
through Adelaide's Parafield Airport in November 1951 en route to Perth. It was noted at the
time as being silver doped allover with black lettering except for the name "

Ulm

" on the nose which
was in red. In 1954 VH-EWZ was sold to the WA Boring Co of Perth with "WABCO" painted
on the nose. It operated flights in support of the company's mining operations in remote areas of WA
and SA until its CofA expired in may 1961 when it was retired to Perth Airport.
...............and, like so many other old Ansons, VH-EWZ was used for fire crew practice. It is
seen in the penultimate photo at the foot of the page on the fire drill ground in the trees at Perth
Airport on 14 August 1962. The photo was taken at 09.38 hrs and foam was applied at 09.44 hrs.
Finally, Geoff Goodall (from whose collection the images on this page are displayed) poked around
the carcass in April 1975 and took the last shot of its fuselage frame, tailplane and engine mounts
laying alongside other old vehicles.