VH-EWA (1) Avro 652A Anson 1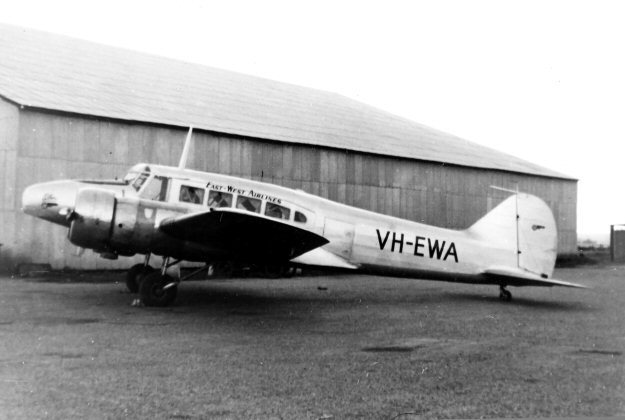 Rare Gus Grulke shot of the first VH-EWA at Eagle Farm Airport, Brisbane in 1949. Barely
discernible is the name "

Ulm

" on the nose. This Anson was ex W2598 sold out of Narrandera
in November 1946 to Anson Holding Co of Inverell, NSW which was the original company from
which East West Airlines was formed, based at Tamworth. Civil conversion was done by
Marshall Airways at Mascot. It was test flown on completion as VH-EWA on 22 November
1947. In 1951 when the airline received its first Hudson, this primo registration was given to
that aircraft and VH-EWA was re-registered VH-EWZ.
Seen below is a nostalgic shot of VH-EWA loading up for Sydney at the old Tamworth aerodrome
(situated on the town racecourse) one obviously cool morning in 1948.
At the foot of the page is an image of W2598 in RAAF service, following a forced landing near
Kempsey, NSW on 17 January 1944 while being operated by No.1 Air Observers School based
at Evans Head, NSW.
All images from the Geoff Goodall collection.