VH-DRE DHA-3 Drover 1 (c/n 5011)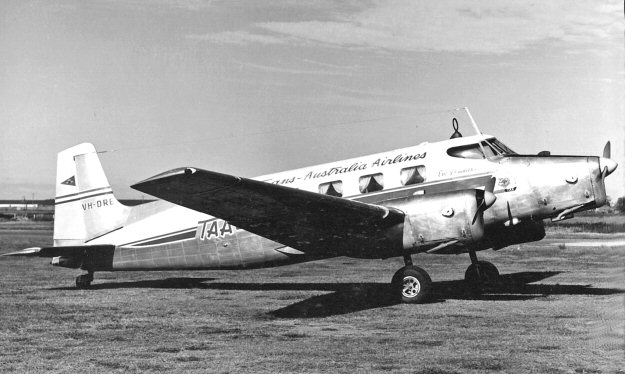 This Drover was one operated by Trans Australia Airlines in support of the Royal Flying Doctor
service and was a replacement for the D.H. Dragon performing this vital work. The Drover was
an indigenous Australian design based loosely on the D.H.104 Dove although in reality it bore little
resemblance to its parent. Originally powered by three Gipsy Major 10 engines, some were later
re-engined with Avco Lycoming flat fours. The photo above, from the Ben Dannecker collection
was a TAA publicity shot taken just after its first flight at Bankstown on 21 February 1952. My
own photo, immediately below, shows it at Eagle Farm Airport in Brisbane in 1954. At the foot of
the page is a rare color image from the Peter J. Ralph collection (via Geoff Goodall) of -DRE after
a repaint into the new RFDS scheme, also at Eagle Farm, December 1957. The aircraft was named


'Eric Donaldson'.

It was re-registered VH-FDT in 1963 in the Flying Doctor series, and then went
to Air Melanesie in the New Hebrides (Vanuatu today) in 1969 as VP-PAP. Returning to Australia
a year later it became VH-EOO.