VH-DHD (2) de Havilland D.H.104 Dove (c/n 04104)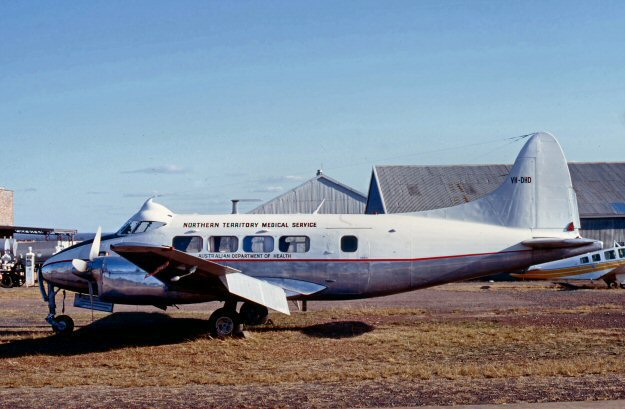 VH-DHD left Hatfield in February 1948 to become VT-CQY, one of four Doves operated by
Airways (India) Ltd. It was sold to Airlines (WA) Ltd in 1963 as VH-AWA. When Airlines (WA)
amalgamated with MacRoberston Miller Aviation in 1955 to become MacRobertson Miller Airlines,
the Dove was re-registered VH-MMN. (Anyone have a decent image of it as either -AWA or
-MMN or both?). By 1967 it had passed to the Commonwealth Department of Health becoming
VH-DHD. Whilst with the Department VH-DHD was instrumental in evacuating people from Darwin
to Katherine after Cyclone

Tracy

in 1974. Greg Banfield took two images of it. Above, at Bankstown
in July 1975 carrying Northern Territory Medical Service titling, and immediately below at Camden in
January 1978 when the aircraft was operated by Macarthur Airways on a short lived scheduled service
from Camden, NSW to Canberra. The photo on the foot of the page by George Canciara was taken at
Essendon in 1989. Struck off the register in 1983, the deteriorating Dove was rescued by Capt. Ted
Rudge of Australian Airlines in 1987. It was restored and operated by Rudge Air (primarily a charter
outfit) until it crashed into houses in suburban Essendon on 3 Dec 1993, just after the right engine had
failed on take-off. Fortunately there was no loss of life to either the 2 crew, 8 passengers or to persons
on the ground.