VH-DAT CAC CA-28 Ceres (c/n 14)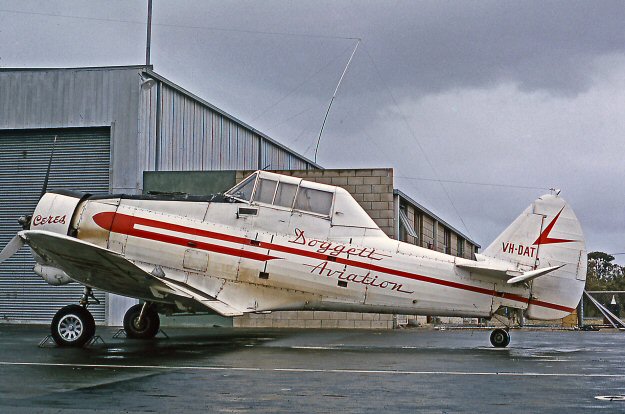 This was the former VH-CEP, re-registered VH-DAT when sold to Doggett Aviation of Perth in 1962.
It is seen above at Jandakot in April 1965 in this nice color shot by Neil Follett. Marv Prime's B&W
(below) was taken at the same location in March 1967 (both images via Geoff Goodall). On 16 Feb
1968 during an engine start at an ag strip near Kojonup WA, the dry grass under the aircraft was set alight.
The pilot was initially unaware of the fire and continued running the engine while ingesting the flames, and
the fuselage undersurfaces were badly burnt. It was trucked back to Jandakot Airport where the P&W
engine was found to be a write-off and rebuilding the airframe determined to be uneconomic. After
several years in storage, the Ceres was sold to Perth TV Station TVW7 which was setting up a small
aircraft museum at its Studios in the Perth suburb of Tuart Hill and cosmetically restored it back to a CAC
Wirraway. Geoff Goodall's photo # 3 below shows it at the studios, just before a change of management
at that concern closed the aircraft museum down. The "Wirraway" was then sold to a Sydney warbird
enthusiast who planned to use the mainplanes for an airwaorthy Wirraway restoration project.