VH-CPU Piper PA-25 Pawnee 235B (c/n 25-3607)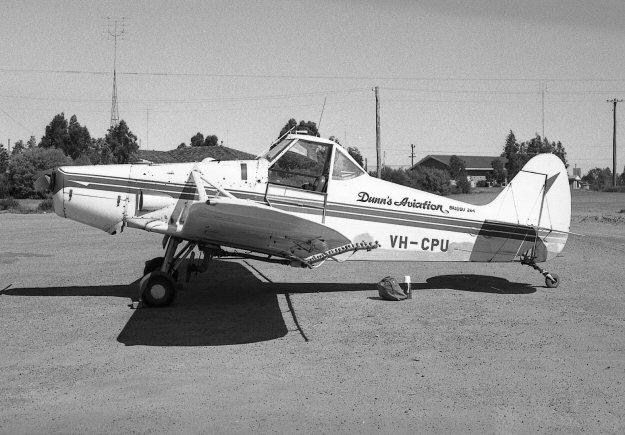 Ex ZK-CNA. See VH-CPT for details of Dunn's Aviation operation. The above shot, by Geoff
Goodall, was taken at Ballidu in August 1975. This company later adopted a mustard yellow
paint scheme and this can be seen in the shot of all three of them (below) at Jandakot in February
1978, possibly on the occasion of Dunn's bringing them into Perth for major inspections. Following
that is another Goodall shot of the Pawnee as it first came in from New Zealand. I debated putting
this out on my ZK- collection, which currently ceases in the mid ZK-Bs (when my association with
that register ended). However, I decided, if I did that, I'd have to make an endeavor to fill in all
the other 1960s/70s ZK- regos, and I don't have enough time to do that, even assuming I could
find suitable sources. I'll therefore leave it appended to this entry. Of the three Dunn's Pawnees
-CPU is the only one still flying and is now owned by the Southern Cross Gliding Club, Inc based
at Camden, NSW, ending its days, as did many ex crop sprayers, as a glider tug. Craig Murray
took a contemporary shot of it (foot of the page) at Camden in July 2007, by now sporting high-
lift drooped wing tips.