VH-CPT Piper PA-25 Pawnee 235B (c/n 25

-2997)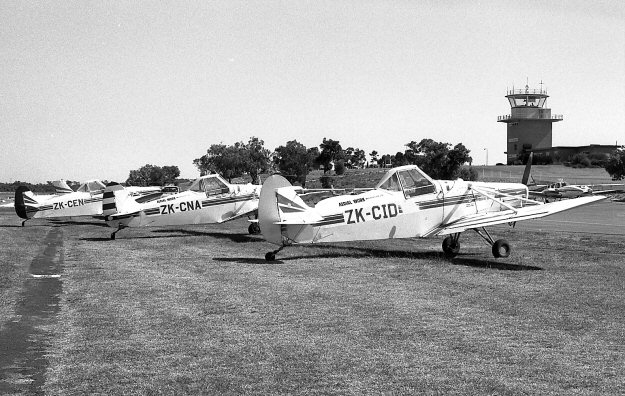 Ian Dunn established Dunn's Aviation at Ballidu WA in 1968 with Callairs. In 1975 he imported
three Pawnee 235s from New Zealand, which were shipped to Adelaide for assembly at Parafield
in March of 1975 and ferried to WA, the trio arriving, no-radio, at Jandakot on 4 April 1975:.
They were:
ZK-CID to VH-CPT
ZK-CNA to VH-CPU
ZK-CEN to VH-CPV

Geoff Goodall took the above shot of the lineup of the 3 Kiwi Pawnees at Jandakot in April 1975
after they had been re-assembled. Geoff did not provide me an individual shot of -CPT marked
as such, although it does appear in the line up image of all three taken at Jandakot in 1978 (see
the next entry for VH-CPU). Remote Ballidu, some 250 km north of Perth was probably not a
venue visited more than once or twice, and doubtless -CPT was off on its spraying duties at some
remote outlying station by the time Geoff paid a visit! VH-CPT was written off in an accident near
Cudal, NSW in January 1986. It is, therefore, remotely possible that some other keen spotter took
a shot of it after it left West Aussie, although for pure tenacity in obtaining photos at remote locations,
Goodall must surely hold the crown. .