VH-CNO (1) Champion 7EC Traveler (c/n 7EC-654)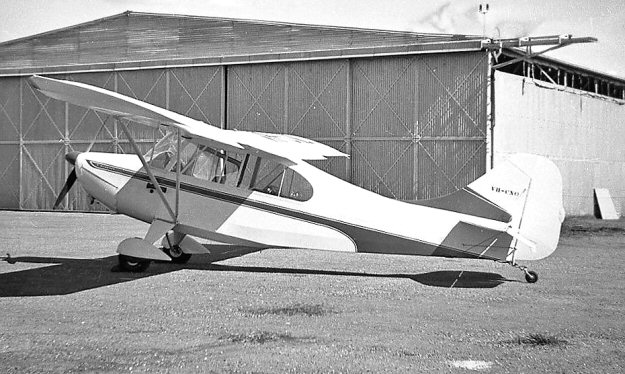 A rare Box Brownie shot of VH-CNO at Cootamundra in 1959 by Ben Dannecker. The diminutive
aircraft was in service with the Cootamundra Flying Club. This was in the days when Champion
Aircraft painted their registrations in 'package crate' stencil script. I have photos of many U.S.
registered ones like it. (Incidentally I have enlarged the rego section below). The Traveler had
been imported the previous year as a new production aircraft by Australian agents Fawcett Aviation
of Bankstown and registered VH-CNC in September 1958. It was sold to the Cootamundra Flying
Club on 9 March 1959, but with a newer 7EC on its way by sea from USA, Fawcett re-registered
it the same day as VH-CNO to allow their preferred registration VH-CNC to be used again on the
new machine (7EC-689) in May 1959. Ben's photo, therefore, was taken between March and
August 1959. At that latter date the Club re-registered it VH-CFS, when the company name was
changed to Cootamundra Flying School. In June 1967 it was re-registered again, this time to
VH-PTP. Both it and 7EC-689, VH-CNC are still flying.
In his publication Cootamundra Aerodrome, Ben Dannecker records: "Pilot training at Coota-
mundra recommenced with Wagga Flying School using Tiger Moths and Chipmunks with
Mr. A. Coote as instructor. In March 1959 the Club purchased its own aircraft, a Champion
7EC VH-CNO and Mr. Coote became permanent instructor. The Club flourished under the
Presidency of Mr. Frank de Britt, but due to the mercurial nature of aviation finances, the
club ceased operations in the early 1960s."