VH-CMY Cessna 336 Skymaster (c/n 336-0005)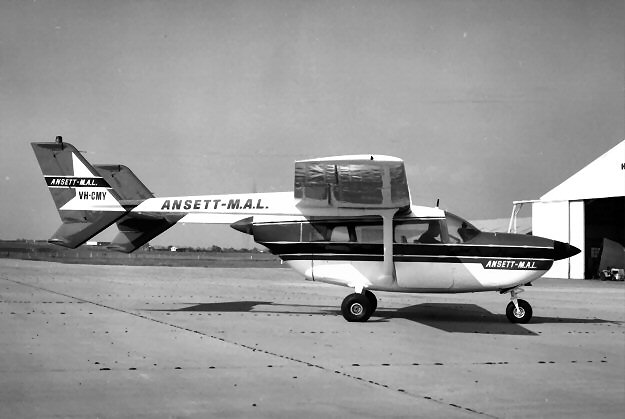 Nice shot by Greg Banfield of a 336 in Ansett-M.A.L. livery at Bankstown in June 1965 just after
it had been sold to the airline by importers Rex Aviation. It was the former VH-RLW. It was con-
verted by Aerostructure Ltd so that the rear fuselage, including the Continental IO-360A engine,
could be swung to one side to provide a large cargo door. The hinge line can be seen in the image
above. It was delivered to Papua New Guinea on 16 July 1965 and based in the Sepik District.
It was sold to territory Aiorlines in 1971 and eventually re-registered on the independent PNG
register as P2-CMY, but later retured to the Australian register as VH-CMY. It had several
subsequent owners and was then static at Coolangatto for many years. It was reputed to be the
subject of a restoraton into the new millennium.