VH-CLP Beech E50 Twin Bonanza (c/n EH-18)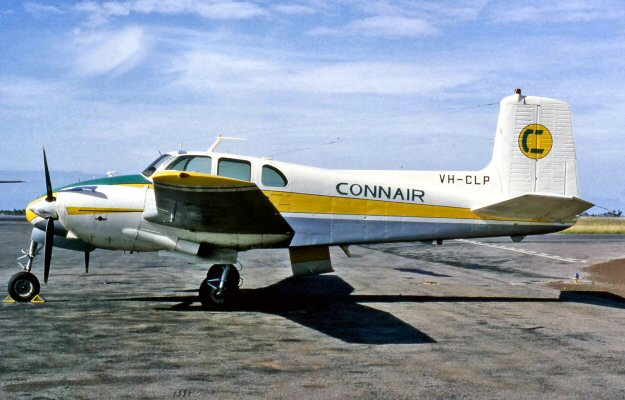 In late 1971 Connellan Airways changed their livery from the blue with red pin strip to this yellow
with green anti-glare panel scheme, and, at the same time adopted 'Connair' as their operating name.
The very nice shot above was taken at Darwin in January 1972 by Mike Madden, seen here via the
Geoff Goodall collection. VH-CLP was first imported in March of 1966, ex N410F. In January
1976 it was flown to Sydney and sold off to Falcon & Sopac Aviation Pty Ltd (trading as Fast
Airways) which is when Chris O'Neill saw it at Bankstown in February of that month (immediately
below). Greg Banfield's B&W shot (bottom of the page) was taken a month earlier on 18 January.
When it ran out of spar life it was retired in 1981 and parked at Cessnock, NSW. In 1982 it was
trucked from there to Parafield to be used for parts by Skytours who were flying Queen Airs. A
shot of it in derelict state at Parafield can be seen at the foot of the entry for VH-CFI.