VH-CKD (2) Auster 5D (c/n 1348)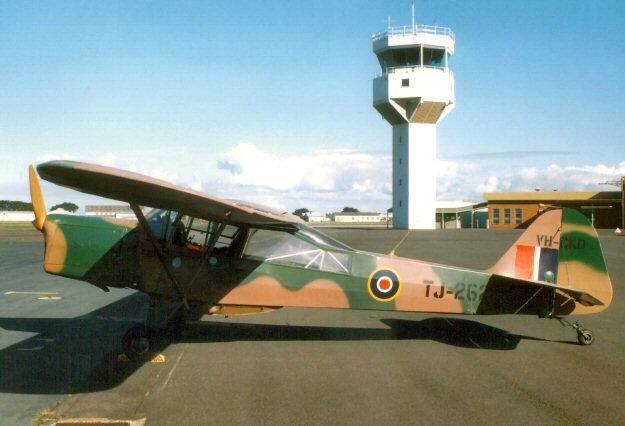 Built in 1944 as TJ262, a Taylorcraft Auster Mk V for the RAF. It flew in the Far East from 1945
until 1951 (Saw service in India, Japan and Singapore). It was sold locally in Singapore but wound
up in Australia as VH-AGQ in 1953. Somewhere around the early 1960s it was referred to as an
Auster 5D since the Lycoming had been replaced with a Gipsy Major. It was re-registered VH-CKD
in 1969. As Ian O'Neill points out, however, strictly speaking it should be a 5C since it still retains
the standard Mark V fin and rudder (the 5D's was larger). It is still current, registered to B. Strange
of Romsey, Victoria. Barry Maclean's (above) shot was taken at Pt. Cook in 2005.
The following two images, from the Geoff Goodall collection, are much earlier impression of -CKD:
Immediately below it is seen at Jandakot, WA in November of 1969, with typical "civilian" type
glazing usually adopted for AOP Austers at that time. The nice in flight shot at the bottom was taken
near Northam, WA in February 1983 with -CKD looking very respectable without the dreadful tail
markings of the center shot. Pilot/owner Brian Ford in control.