VH-CEJ de Havilland D.H.82A Tiger Moth (c/n DHA1077)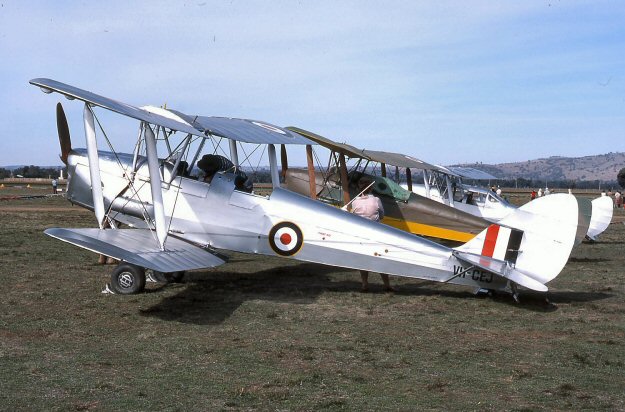 <>>
VH-CEJ was formerly A17-746 purchased ex RAAF Tocumwal in 1954 by Rockhampton Aero
Club. It was one many Tigers put into storage at Tamworth - dozens of them were stored on their
noses with tails in the air to get the maximum into each hangar. Kept for postwar use, it was
flown at Wagga by 1BFTS Uranquinty until acquired by the Rocky Aero Club. Flown by the
club until retired and cancelled from the register on 11 October 1966, it had always been shown
in registers with the identity "A17-746". The following year a dismantled Tiger was observed by
Australian aircraft registration historian Mel Davis in the back of their hangar at Rocky which he
assumed was -CEJ but carried no identification. There was some speculation that a Tiger which
emerged from D.H.82 rebuilder Cecil Heit's shop in Brisbane in 1968 as VH-CES (and carrying
the c/n of "1070") was a reincarnation of VH-CEJ, but that appears not to be the case and -CES
is, in fact, a totally different aeroplane. VH-CEJ meanwhile became the subject of a long term
rebuild by Charlie Miller of Canberra, emerging on 15 October 1982 with the corrupted c/n of
"T746" instead of its old identity of A17-746. . This is definitely not connected to the DHA "T"
series of overhaul airframe numbers since they did not go that high, and just where that number
came from is somewhat of a mystery (although CAA accepted in in good faith - and it retains that
identity today). Geoff Goodall took the above shot shortly after that rebuild at the March 1983
Mangalore air show. A rare shot of this Tiger back in 1957 can be seen in the background for the
entry on VH-GWB. Since Geoff's shot above it went to the Tooradin Flying School. Somewhere
in the early new millennium it apparently force-landed in a swamp and was badly damaged during
the recovery effort. Phil Vabre took a photo of the remains at Penfield, SA in mid 2007 (below).
It is still registered and was rebuilt by Rob Scott and Kim Skyring of Transaero.