VH-CDZ Douglas DC-2-115G (c/n 1376)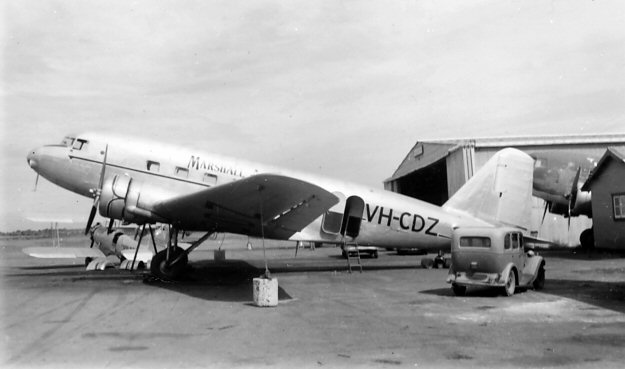 There are several photographs of this old bird on various websites. I'll use just two images here
to illustrate it: mine (above) taken at Bankstown outside Sid Marshall's hangar in May of 1954
and that of Rod Adams (below, via Geoff Goodall), almost a decade later (Jan 1963) at the same
venue. This aircraft was originally delivered to the Dutch East Indies KNILM as PK-AFL and
then escaped to Australia in the wake of the Japanese advance on the islands in 1942. There, it
was impressed into service as a C-32A and civilianized again in 1944, going to Australian National
Airways as VH-ADZ

'Mengaga'

. It was sold and re-registered as VH-CDZ in 1949. It was later
sold off in the US and became N8486D of the Confederate Air Force but what became of it after
that is not known.