VH-CDW Cessna 180 Skywagon (c/n 30612)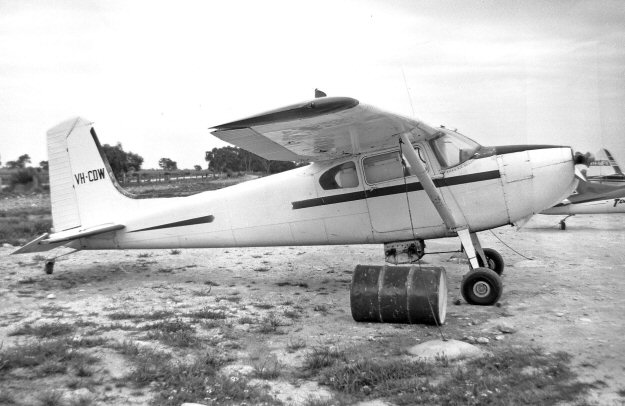 Three shots of the same Cessna 180 by Geoff Goodall. Interesting in that its livery got progressively


better

as the years went on! -CDW was an early 180 originally built as N2312C. A crop duster, it
went to New Zealand as ZK-BEG before crossing the Tasman Sea to join Super Spread's fleet as
VH-SSQ It later went to Robbys and in the photo above, taken at Tintinara, SA in September
1966 it was a duster/spreader with Coondair Pty Ltd, a local ag operator, who acquired it in October
of the prior year. In January 1967 they had it re-registered into their into their VH-CD block. In the
photo immediately below it is seen at Northam, WA in May 1970, by now cleaned up as a 4 seater and
owned by GRD Co, a Sydney outfit supporting an aerial survey operation in the area along with their
BN-2A Islanders. Finally, at the bottom of the page is a shot of -CDW at Jandakot in February 1971
sporting full GRD colors. This old bird was finally cancelled from the register in November 1994.