VH-CBA Douglas DC-3CS1C3G (c/n 9749)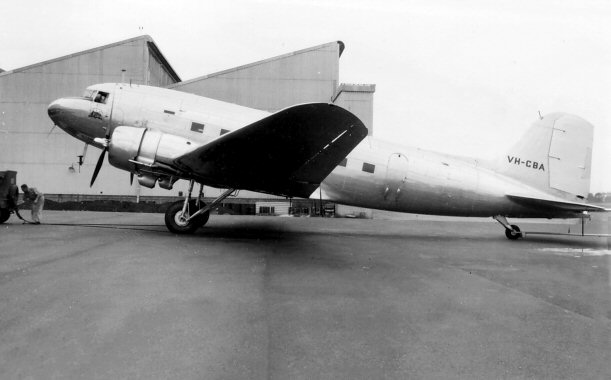 This DC-3 was owned by the Commonwealth Bank of Australia and is seen here at Essendon
in1954 whilst in for maintenance, courtesy of the Department of Civil Aviation. Built as a
C-47A-35-DL, it served with the USAAF as 42-23887 before being civilianzied in 1946 and
briefly carried the registration VH-AXT. It was re-registered to Mandated Airlines in 1957 as
VH-MAM, and later VH-MAB. When New Guinea became independent it became P2-MAB,
then P2-ANX with Air Niugini and finally on the US register as N55894. However, it is
doubtful that it ever left New Guinea and is reported to be derelict at Jackson's International
Airport at Port Moresby. When this shot was taken this was a very low time, immaculate DC-3.
I shudder to think of the iniquities that befell it once it got to PNG!