VH-BZC Douglas DC-3S1C3G (c/n 16494/33242)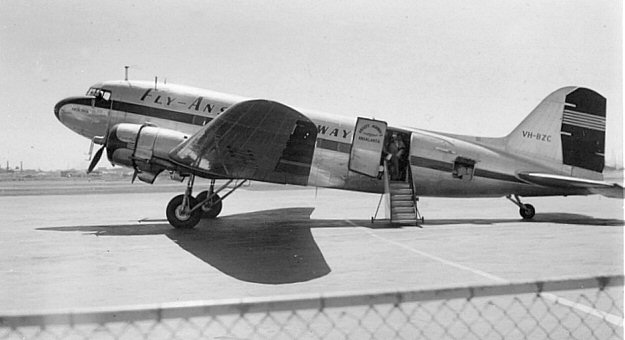 Here's -BZC over the chain link fence at Essendon in 1954. It was named 'Ansalanta'
Like -BZB, this was an ex-RAF Dakota IV, serial KN599 (actually a C-47B-35-DK).
After Ansett acquired its Convair 340s it was decided that the DC-3s would be repainted
in the "stolen Braniff" livery when major overhaul became due. Seen below, in almost the
same spot, it is seen wearing the new livery in 1957. If you want a quick look as to how
that compared with Braniff's, click here. What can I say? In 1958 -BZC was sold to
Papuan Air Transport as VH-PAT. On 8 April 1961, during a cargo flight, smoke was
observed emanating from the bales of whatever in the rear. An emergency landing was made
at Bereina in what was then Papua New Guinea. The fire spread and the aircraft was destroyed.
It was surmised that the cause was improperly packed chemicals.