VH-BSP DHC-1 Chipmunk T.10 (c/n C1/0063)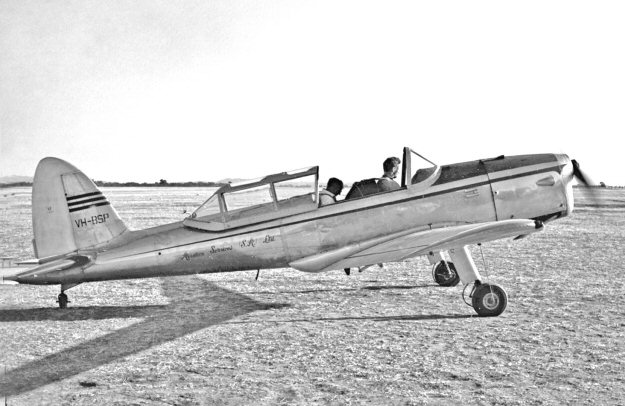 Aviation Services (SA) Ltd ran flying schools in South Australian country towns with a modest fleet
of Chipmunks. VH-BSP, which had been acquired from the Tasmanian Aero Club at Launceston,
was based at Whylla, although Bob Neate's photo above was taken at Mildura (September 1962).
Maintenance was performed at Parafield which was where Geoff Goodall's shot was taken (immediately
below). On 2 February 1963 VH-BSP was flown into the ground some 9 miles south of Turnby Bay,
SA by its 20 year pilot, Miss R. Puckridge. The DCA report stated that it was a "probable suicide
gesture". Local gossip at the time conjectured that Miss Puckridge was distraught over the death of
the pilot of VH-UEK which had crashed in the same general locale a week or so earlier while low
flying. It was rumored that she had a romantic relationship with this pilot. In the event the gesture
was in vain insofar as the undercarriage of -BSP bore the brunt of the impact and Miss Puckridge
sustained only minor injuries. However, these two crashes within a fortnight of each other were
probably the reason which caused Aviation Services to abandon their country flying training oper-
ations and leave it to the Royal Aero Club of SA who had, for years, received criticism for not
providing training outside Adelaide. This was rectified when the club purchased a large fleet of
Victa Airtourers and began providing regional training. Meanwhile Aviation Services concentrated
on Auster maintenance at Parafield and became agencies for Beagle and a few other obscure types.
Finally, from Ron Cuskelly in Brisbane comes news that the fin, rudder and tailplane of -BSP (along
with several other Chipmunk bits and pieces) are now to be found amongst the Queensland Air
Museum's "Chipmunk Starter Kits". Photo at the foot of the page taken in 2006.