VH-BRC Short S25V Sandringham 4 (c/n SH.55C)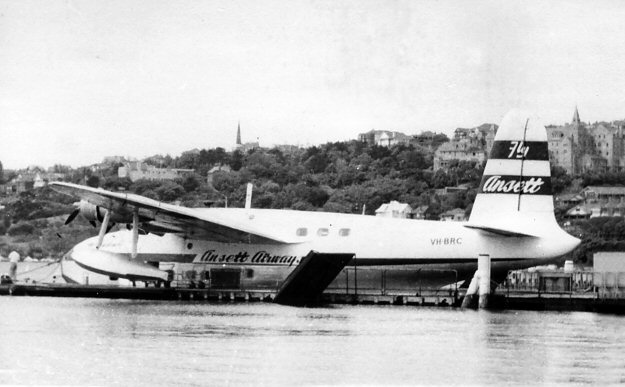 The Short Sandringham was a Sunderland Coastal Command patrol aircraft refurbished to full airline
standard. In fact, it had the same Shorts type number. VH-BRC had originally been converted for
Tasman Empire Airlines (TEAL) and delivered to New Zealand as ZK-AMH. It was acquired by
Barrier Reef Airways when TEAL upgraded to Short Solents, and then passed to Ansett Flying Boat
Services in 1952, who named it

"Beachcomber"

. It went on to the US registry in 1974 as N158C
and then was registered in 1976 in the Leeward Islands as VP-LPE. Following storage in Puerto
Rico, it was made airworthy again in 1980 and made the transatlantic crossing to Killaloe in Ireland,
awaiting permission to enter the U.K. This was granted in February 1981, and the grand old lady
now resides in the Southampton 'Hall of Aviation' museum. Appended below are two more shots
of this Sandringham, the upper one showing it on the Brisbane River shortly after coming onto the
Australian civil register, and the lower image, from the G. Wilkes collection (via Fred Niven) was
taken in 1972 as the aircraft was taking off from Lake Macquarie. The website
http://www.aussieairliners.org/shortfb/vh-brc/vhbrc.html
has a complete gallery of photographs of this aircraft.