VH-BNQ Auster J/4 Archer Special (c/n 2361)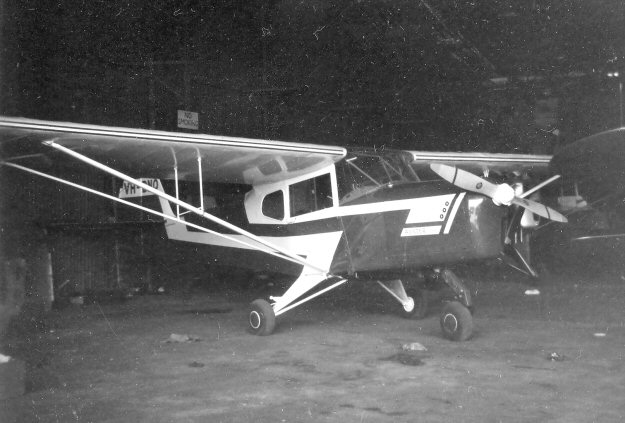 <>

What an abortion! Here is VH-BNQ as an Auster J4 Archer at Bankstown circa April 1958, in
a rare photo from the Jeff Atkinson collection showing the short-lived experimental nosewheel
undercarriage. This Auster had been built as a J2 Arrow (G-AIJU) with a 75 hp Continental C-75
engine, imported by Australian Auster agents Kingsford Smith Aviation Services and assembled at
Bankstown in February 1950 for sale to the Royal Queensland Aero Club, who had a number of
two-seat Arrows. It crashed on takeoff at Mount Perry, Queensland on 26 March 1951 and was
written off. The wreck was repurchased by KSAS and stored. From the mid 1950s KSAS came
up with a variety of modifications to improve basic Auster models in a vain attempt to keep them
competitive with the new Cessnas and Pipers being imported in increasing numbers. VH-BNQ
was rebuilt at Bankstown as a J4 Archer with a 90 hp Cirrus Minor IIA engine and fitted with an
experimental tricycle undercarriage. It was test flown on 16 April 1958. The experiment was
deemed unsuccessful (plus DCA weren't too keen on giving it a full CofA) and -BNQ was con-
verted back to conventional tailwheel undercarriage by July 1958, as seen in the image below from
the Geoff Goodall collection. As a J/4 it joined the Kingsford Smith Flying Services training fleet,
and was re-registered VH-KFF, later VH-CGF. Then, in 1992, it reverted back to VH-BNQ,
an identity it still enjoys today.