VH-BJN Avro 652A Anson 1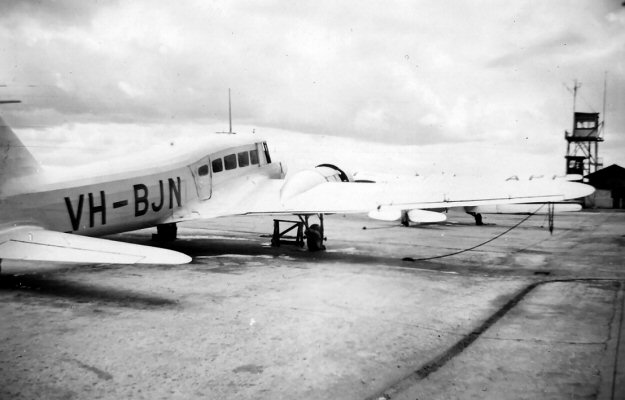 VH-BJN at Essendon circa 1948 parked on the sloping concrete stand in front of the main hangar
row that is little changed today. In October 1947 DCA allocated the registrations VH-BJN to BJR
to 5 ex RAAF Ansons being civilianized by an ambitious new air freight operator at Melbourne's
Essendon Airport named Tradair Pty Ltd. Staffed by ex servicemen from the war, Tradair had big
plans for extensive services, concentrating on carrying fresh fish, crayfish and meat from Tasmania to
Melbourne. Sadly, like so many immediate postwar aviation enterprises, Tradair failed financially
and folded two years later. VH-BJN had been acquired from Adelaide where it had originally been
allocated (although never registered) the markings VH-AGY. It was retired at Essendon early in
1950 when Tradair failed and sat in the Essendon graveyard until sold to Robbys Aircraft in Adelaide
in November 1950. Robby's managed to get it into ferriable condition for the flight back to Parafield
where it was used for spares for their own Ansons VH-RAS & RAU.